Next Man Up?
        The Patriots appear to be moving on from Cam Newton as their quarterback and so the question is: who's the next man up? Cam Newton led the Patriots to a mediocre 7-9 season where they missed the playoffs for the first time since 2008.
        One player Belichick may be interested in is Deshaun Watson, who on January 28th requested to be traded from the Houston Texans. Watson over his first 4 seasons has shown that he is a top quarterback in the NFL. This season he threw for 33 touchdowns (compared to Cam Newton's 8) and only 7 interceptions. The price for Watson will be incredibly high, but if you have the opportunity you have to go for him. 
        Another player who may end up on the Patriots is Matthew Stafford from the Detroit Lions. Although Stafford is a good player, he has been stuck on a terrible team that has finished last in their division 7 times since he joined the team. After game planning around Newton who is a mobile quarterback, Belichick might want to go back to a pocket passer who plays more similar to Brady. Although Stafford is not nearly as good as Brady, he is definitely good enough to lead a team as long as he has a strong supporting cast.
        Jimmy Garopollo was once the backup quarterback for the Patriots before moving on and signing a $137,500,000 contract with the 49ers. Now it's a few years later and he may make a return to the Patriots. The 49ers made the Superbowl on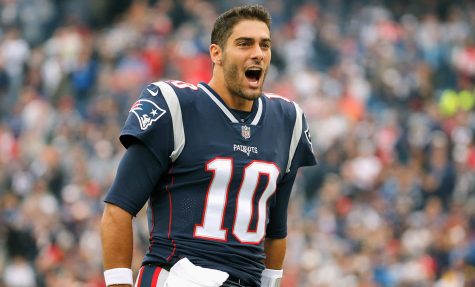 ce with Jimmy G but didn't recreate that success this season as they only went 6-10. One issue with Jimmy is that he seems to be injury-prone. He has sprained his ankles and has torn his ACL. His newest injury kept him on the bench for the rest of the season. Jimmy is a risky pickup because of his injuries and high cost but at times he has shown his potential to be good enough to lead a team. Jimmy helped lead his team to a Superbowl and although they didn't win, he has the potential to make a return if he can stay healthy. 
        We spoke with a Patriots season ticket holder to hear who they thought will be the Patriots' QB. He told us, "Stidham is fine maybe as a backup at best. If the Patriots don't make a move it seems like Stidham could be the guy." When we asked him about Matthew Stafford he said, "The lions want a 1st round pick for Stafford so that's likely a no." I agree that Belichick might not want to give up a valuable 1st round draft pick for a 32 year old QB. He told us that Deshaun Watson is his first choice in a perfect world, but that his price is very high. That's likely as it may be multiple 1st round picks. If we do acquire Watson and it doesn't work out, the Patriots could ruin their future for many years. It's up to Belichick to decide if it's worth the risk.