The Show & a Half
     "Absolute banger of an episode," says a comment under the first episode of The Show and a Half; with 463 views and 39 likes of "Shredder's" (aka Cole Bekeritis's) episode, the show made its debut. The Show and a Half is a half improv talk show starring High School senior, Wes Smith, and is co-hosted by classmate, Mat Richard, or as they like to call him, "Mitch." Behind the scenes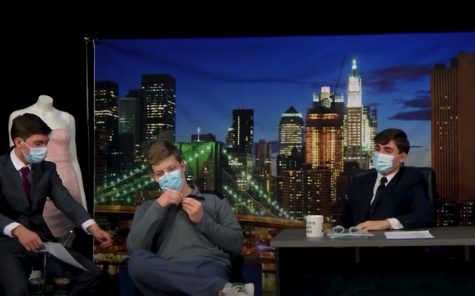 also includes some help from Zephan Keech and Frank Curly. After filming in Ipswich's ICAM (a public studio across from IHS) and going through hours of editing, the episodes are ready for you to watch and most importantly, laugh at.  
     When asked about some of the feedback he's heard about the show, Mitch said, "from just about everyone I have talked to about the show, they all they say that it is hilarious and often relate it to 'The Eric Andre Show;'" which is a good thing since some of it's inspiration actually came from the famous show. Wes also adds that with that inspiration, he wanted to make "a late night show that has the quick modern editing and delivery my generation likes. A talk show that interviews teens from Ipswich would give them an opportunity only celebrities really have. It seemed like the perfect idea during these covid times, and would give people something to laugh about." 
     Every Friday, you can catch Wes and Mitch causing shenanigans with new guests, and if you go to this school, you will surely recognize them all. Along with asking people to be on, Mitch says "we come up with the guests by people reaching out to us about wanting to be on."  With the goal of just having a good time, anyone could really be on… be ready for Wes's repeated yelling, though! So far, the show includes: "Shredder," "T-Flound" (Tucker Wile), Cam White, Angelina Rix and Lauryn Whynott, and "Sammy" (Jake Wilde). Pretty soon, we'll also get to see Brady Scobert, Fin Maclennan, and Wilton Lestage make an appearance. 
      Usually asking what his guests have planned for the future, Wes wants to major in Communications next year in college. He hopes to be able to pursue film/media in the future as well saying, "it would be a dream of mine to continue making content people would enjoy watching, especially in the humor/slapstick field whether it be on/off screen." So far, this show is just the beginning for him. So, tune in next week and every Friday night!