New French Teacher In Town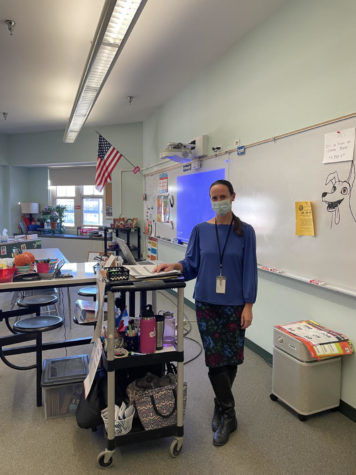 Madame Hover joined the Ipswich High School community at the start of the 2020 school year, becoming the new French teacher! She can be described as an "engaging, considerate, and lively" teacher, according to Amelia Cormier, senior French student at Ipswich High School.
Mme. Hover says her French education began "on the first day of first grade" at the French Immersion School in Milton, MA, where her teacher only spoke French the entire day. Not only did she take French classes at the immersion school, but she took many other classes, all in French. With this mastery of the French language, she went on to major in French and minor in Spanish at Middlebury College.
Later in her life, she began to teach French and Spanish at different high schools and colleges in Massachusetts, including Beverly High, where she taught part time. This job was perfect for her family, allowing her to be home throughout the day to take care of her four young children. As her children began to get older, she began looking for a more full time teaching position.
Monsieur Craven, former French teacher at Ipswich High School, and Madame Hover know each other, as they both participated in the same French Immersion program. When Mme. Hover reached out to M. Craven about the open position in Ipswich, he complimented the school system, saying that "It was a great place to teach." Additionally, Mme. Hover loved the idea of the Tiger Tot's program, which would allow her to take her youngest son to school with her. 
For such a great fit, this job was far from perfect. Mme. Hover had to pick up the pieces from the prior year, where one French teacher was fired, a retired teacher came in temporarily to help out, and then a new teacher was hired for the remainder of the year. 
Senior French student, Jessica Flowers, explains, "When she first came to teach us, we were pretty lost. We didn't have a great understanding of the French language at that point, and were burnt out from the constant cycle of teachers." Madame Hover took on the difficult task of figuring out what was missing in her students' education, and teaching to cater to their needs. She describes it as "discovering gaps in their knowledge and filling those in."
Mme. Hover also carried the challenge of simultaneously teaching on zoom and in person, since her first year was during the worst of the COVID-19 pandemic. This loaded even more stress onto her, forcing her to be creative in the ways that she taught. During the hybrid-online learning model, Mme Hover would use activities that would allow students at home to still participate in the class, without hindering the education of those in person. She says that she "found ways to make games accessible, utilized breakout rooms, asked students at home questions to ensure that they were still engaged, and also made sure to change activities frequently." This allowed for a successful year of learning for her students, both at home and in the physical classroom.
The amount of effort that Mme. Hover puts into teaching is worth applauding. Everyday in her class, there is something new, whether it be a French song to listen to on "mercredi musicale" (musical Wednesday), a French movie to watch on "vendredi vidéo" (Friday video), or a new game to play. Jessica Flowers expresses that, "She makes learning exciting, and understands what her students enjoy, as well as how they learn best." Mme. Hover makes sure to make French an engaging and fun language for her students to learn. 
Mme. Hover has been able to form connections with her students in the language that she taught them, "making the language come alive," which she describes as the most rewarding part of teaching. With all the chaos surrounding new French teachers, Madame Hover was able to establish a hardworking, yet fun place to learn. It is clear that Mme. Hover has, and will continue, to maintain a stable and long-lasting French program for the students at Ipswich High.