Snow Daze
Ipswich High School has officially had its first snow day. It was a welcome and much needed break from the end-of-the-semester stress. As the temperature starts getting colder as each day passes, we can expect a few more snow days to come this year! Hopefully we will get plenty of needed breaks. Lots of students might not know how to keep busy on a snow day and take full advantage of the time off, so I'm going to be giving some ideas for things you can do.

You can always do the most typical snow day hobby, which is going outside in the snow. If you have younger siblings, you can teach them how to make an awesome snow fort. Also, now that you're taller than you were when you were little, you can make a big snowman and have no problem lifting the head on top. You can also buy hot cocoa mix or ingredients at the store if you know a snow day is coming up, so then you can have a warm cup once you come inside from the cold.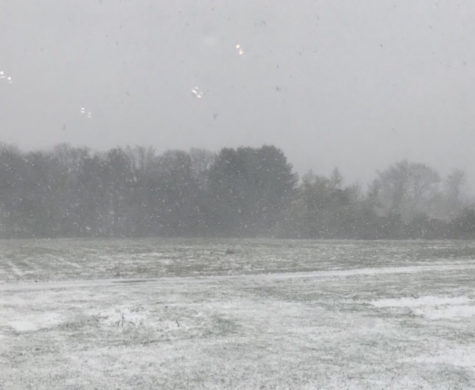 Snow days have changed for a lot of people as they've grown older. Hunter Henderson, a high schooler at Ipswich High School, says "we used to go sledding all the time with my family and stuff, and now I just stay inside." When you're younger, snow days are days to play outside in the snow, but as you get older you're probably just looking forward to the fact you're going to have a much needed day off. Hunter still loves snow days, because he has time to "draw, play games, and drink hot cocoa."
Whenever I get bored I like to bake. It is always fun to take out all the ingredients and make something, and afterwards you have a nice snack to eat. Perhaps there is a show you've been meaning to watch, or maybe an old favorite that you haven't rewatched in a while. Snow days are perfect opportunities to sit back and binge watch shows all day long. If you baked beforehand you can eat what you made while you relax and watch your shows/movies. 
Snow days are also great for doing things you usually don't have the time for, like art or video games. The day off gives you time to put lots of effort into a game you may have been putting off for a while because of your packed schedule. Art is always fun to do, but it feels as if there is never enough time to just sit back and draw without needing to rush to your next class or to sports or wherever else you're needed! Snow days are perfect for taking time to yourself and catching up on your hobbies.
No matter your age, you can always find something fun to do on a snow day. There are many things you can do that you normally wouldn't have the time for. You can sleep in and then enjoy the rest of your day outside, baking, drawing, playing video games, and anything else. I hope this article sparked some ideas of what you're planning on doing on the next snow day!