The Game of Soccer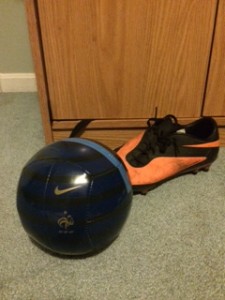 Soccer is the world's most popular sport.  It is played in almost every country and people love it.  There is a huge difference between watching soccer and playing soccer.  When you are on the field, there is no better feeling in the world.   With the ball at your feet, your options are endless: passing, dribbling or taking a shot.  The game is limitless and can be played for hours on end.  Soccer is also a spectator sport.  Europe and South America are crazy for soccer.  The stadiums are sold out and every seat is filled at almost every single game no matter where the game is played.  The fans take the game so seriously, that an occasional riot will break out and police have to get involved.  During any championship game, the city is filled with fans all joined together to watch their team play on a big screen in the heart of the city. There is always a lot of emotion involved whether you are playing or watching the sport.
The World Cup is the most anticipated tournament in the world. It happens every four years during the summer.  This year, the World Cup is in Brazil.  This gives powerhouse, Brazil, an even bigger advantage by making them the home team.  People around the world who don't necessarily like the sport of soccer all come together and watch as much of the World Cup as they can because it is just so enticing and no one can stay away.  It just so happens that the next World Cup is the summer of 2014, so soccer fans around the world are already anticipating the event.
Much different from the World Cup is soccer at the collegiate level.  The style of play is different and the skill level and physicality is also different.  College has three divisions; I, II and III.  The level of competitiveness varies immensely between the three.  Division I is the most competitive and by signing your name to that school to play that sport, you are also signing away your freedom for the next four years you attend that school.  Division II is different from Division I. You are still awarded an Athletic Scholarship for playing at that school, but you have much more freedom.  Lastly, Division III doesn't give away Athletic Scholarships but you have the most freedom and fun out of all the divisions.  "Soccer is the hardest sport to get recruited for the collegiate level," says Coach Ebbie Kodiat, "soccer players are at a disadvantage when it comes to looking to play in college."  Ebbie has played soccer for a very long time and he was part of the India National Team.  He has helped get kids to college and knows how hard it can be.  Many people agree with his statement because soccer is not America's favorite sport.  Football, basketball or baseball are all more popular in America, making it easier for kids to be recruited for one of those sports.
Soccer is becoming a more popular sport at IHS because of the recent success the program has had.  One of the members of the team, Sean Whooley, has been a baseball player all his life. Baseball was his number one sport until this year.  "Realizing that it was my last season and that soccer season was before baseball, I figured I had to be more prepared, so I focused on soccer instead of splitting time with baseball." Entering his senior year, Sean realized that he enjoyed soccer more than baseball and wanted to make his senior season the best season yet.
Soccer is a great sport and it is growing in America.  From high school, to college, to the professional level, soccer is played and watched.  I hope everyone enjoys the World Cup in Brazil this next year.
Leave a Comment