St. Peter's Makes Historic Run in March Madness
Always holding up to its name, March Madness has done it again. The unexpected becomes the expected and everyone is left questioning their decisions on brackets and bets. This year has been historic with the St. Peter's Peacocks making it all the way to the elite eight. By beating Kentucky in the first round of March Madness, St. Peter's has made possibly the biggest upset in March Madness history. Unforeseen upsets cause major damage to brackets around the country. Making brackets to predict the tournament has become a huge tradition for Americans. According to the American Gaming Association, there are over seventy million brackets made each year. 
By beating Kentucky, the St. Peter's Peacocks have pulled off one of the biggest upsets in March Madness history. Over 98% of brackets had Kentucky winning the first round. 6% of the brackets also had Kentucky winning the whole tournament. Rising Governors basketball star Will Wertz said that the "Kentucky loss was pretty shocking since they had such a solid team. I thought they were going to go pretty far". There have only been a total of ten 15 seeds to ever beat a 2 seed. Will also said that "it is also weird that a team that looks like they have a high school level offense was able to beat such a consistent program". What makes the upset so significant is the difference in the size of the programs. In 2020 Kentucky spent about $138.3 million on its sports programs. St. Peter's spent a grand total of $7.2 million on sports the same year, making Kentucky's budget about nineteen times the size of St. Peter's budget. Kentucky is also the home to over twenty-two thousand undergraduate students which completely trumps St. Peter's modest two thousand student enrollment. Kentucky's basketball arena holds over 23,00 people. St. Peter's arena can hold a total capacity of 2,300 people, making it smaller than a decent amount of high school courts. To put into perspective betting, Kentucky had a money line at -5000, with St. Peter's at +1400. The spread of the game was also at -18 for Kentucky.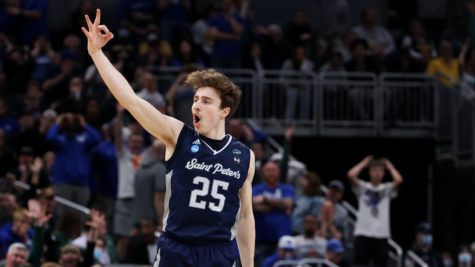 After beating Kentucky, the Peacocks went on to upset their next two competitors, making them the first 15 seed to ever make it to the elite eight. Not only are they the first 15 seeds to make it, but no seed less than 11 has also ever made it to the elite eight. 
I interviewed Jake Reily, a fellow Ipswich student that has been participating in the brackets during this March Madness tournament. His best bracket is in the top 1% of all brackets, but he is still only in one hundred and thirty-three thousandth place since there is such an immense amount of brackets made each year. His best bracket is 97% accurate, and he also has another bracket that is 95% accurate. He has Kansas as the winner of the championship, one of the teams that are in the Final Four.  He is still confident with his pick, saying "Kansas has been very dominant throughout the tournament and regular season. They have solid shooting, they are good in transition and they can get rebounds pretty well". This weekend they face off against another favorite team for many others, Villanova. 
With St. Peter's upsets, history has been made in March Madness once again. Out of the seventy million brackets, no perfect brackets remain. Kansas being the only 1 seed left in the tournament stands as the favorite to win the National Championship, but as many teams have proved, anything can happen in March Madness.