Celtics Fans Bleed Green
If you haven't been watching the Boston Celtics this year then this article should give you hope for the future for one of  the most successful sports franchises in history. This year marks the second year of general manager Danny Ainge's post big three (Paul Pierce, Kevin Garnett, Ray Allen) rebuild of the Boston Celtics and there is a lot of hope for the future. The Celtics shipped off former NBA champion and All Star Rajon Rondo and team lead scorer Jeff Green for draft picks and even more assets. The Celtics have been stockpiling assets more than any other team in the league and have 26 draft picks through 2019 (Most in the league). All these future assets and extra Salary Cap space could allow Boston to sign or trade for a Max Level free agent in the off season. The future looks bright for basketball fans in Bean Town.
The Celtics did very well in last years NBA draft where they drafted Marcus Smart with the 6th overall pick from Oklahoma State and 17th overall pick James Young from Kentucky. With the departure of Rondo, Smart has found himself at the starting point guard position and is well on his way to becoming a successful floor general. Although offensively his shot selection could use some work, where Smart thrives is on defense. The best part is that he is a twenty year old with many years of development. James Young is the other rookie. Who although, doesn't show the same amount of skill as Marcus Smart has a lot of potential and could be a big time player in the league. What Young really needs to do in the off season is the gain a little strength. He would be able to compete with other NBA swingmen (players who can play SG and SF) and could improve on his defense because Young is statistically one of the worst defenders in the league. Players are averaging 1.069 points per possession while being defended by young which is the 390th worst in the league. The Celtics also did a great job in picking up Isaiah Thomas from the Phoenix Suns. "I love Isaiah; he's a great players who provides them with crucial 4th quarter scoring which is what they've lacked", says local retiree Frank Inghilleri. Thomas has already been named the eastern conference player of the week by averaging 22 points per game.
The Celtics season has been all about youth, so its only fitting that they have the most draft picks of any other team through 2019. Celtics general manager Danny Ainge has been stockpiling assets several years now. Overall, the Celtics have 27 draft picks and 13 possible first round picks. Many of those will most likely be converted into second round picks, but with so many picks at the Celtics' disposal that doesn't affect the situation all too much. The Celtics now have more picks than roster spots so keep on your toes this off season because the Celtics may acquire a max level player either through trades or free agency. The Celtics also have a large amount of salary cap space, around 20 million dollars in total. The Celtics may will be able to increase that number when Gerald Wallace's contract expires. Wallace has one of the worst contract in the NBA. Wallace is being paid around 10 million dollars for 2 years (highest on team) but only plays around 7 minutes per game and averages 0.9 point per game. Although Wallace's contract is awful,  but he brings a veteran presence on a young team that needs it and along with the 3 Brooklyn Nets first round picks in the trade that brought him to Boston. With the expiring contract of Wallace and assets the Celtics are acquiring they are building up to possibly sign a max contract player. The free agent market in the off season is an impressive one and the Celtics will have more than enough salary space to sign one. Names like Lamarcus Aldridge, Deandre Jordan, Paul Millsap, Jimmy Butler, Marc Gasol, Kawhi Leonard and Kevin Love, only to name a few. As one student Señeca Freyleue adds "we could get Lebron James or something, then we could win like 40 championships in a row, it would be dope". The NBA has recently signed a new TV deal with ESPN and TNT worth around 2.6 billion dollars a year for 9 years, and the players association will be looking to add a large chunk of that to team's salary.
The celtics show signs of being good this year and could even make the playoffs  The Celtics also have an unbelievably good coach, Brad Stevens. He has been a huge part of the Celtics season and it is portrayed by their record. The Celtics lost their two best players in Jeff Green and Rajon Rondo, but bizarrely, have only gotten better. For the most part they are playing unselfish basketball and its shown by the recent good form. "If they keep the guys they have now and work their way up we will be championship contenders within 5 years" says local fan Tbone11749. With the youth core of Jared Sullinger (leading scorer/rebounder), Avery Bradley (great on ball defender) and Kelly Olynyk (offensive threat) the Celtics will be a formidable opponent in years to come.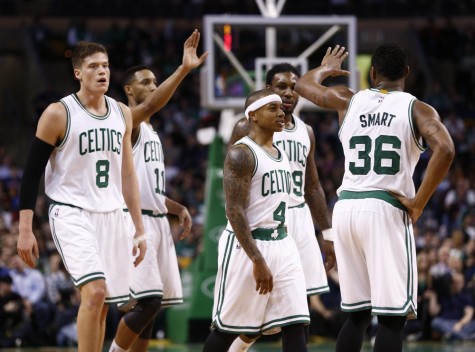 Mark L. Baer-USA TODAY Sports