Indoor Track 2022-2023
Ipswich's Indoor Track and Field team has always been competitive and has created amazing athletes. Many first- and second-year students from last year's team helped to guarantee the team's success. Still, the class of 2023 has always been the most impactful, having a variety of talent. Because of the senior talent, this year's Ipswich Indoor Track Team promises to deliver.  
The Tiger Transcript decided to highlight some of the notable seniors below:
Keith Townsend-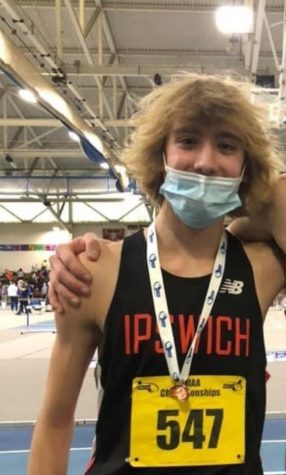 Keith has always been essential to the Indoor Track and Field Team. He is one of the two returning captains from last year's 2021/2022 season. Keith stars in many events where he places impressively in the high jump, 55m hurdles, and 4×400; he was a part of the team record-breaking time of 3:32.36. This year, Keith says that he is "hoping to break 6 feet in the high jump and do more than just one pentathlon. Keith, after high school, plans on running in college, wherever possible.
Chloe Pszenny-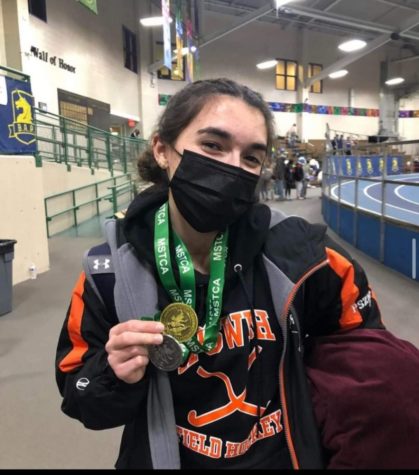 Chloe is the only captain returning this year from the girls' side, where she has always helped others improve throughout the season. Some of Chloe's highlights were when she placed 7th at the Cape Ann League Championships in the 55m dash to set her record of 7.78. Then in the State Championship meet, her 4×400 team placed 6th in the state and went on to the New Balance National Championship alongside the boys' 4×400 team. Chloe also plans on going to college but is still undecided about where to go.
Colin Hansen-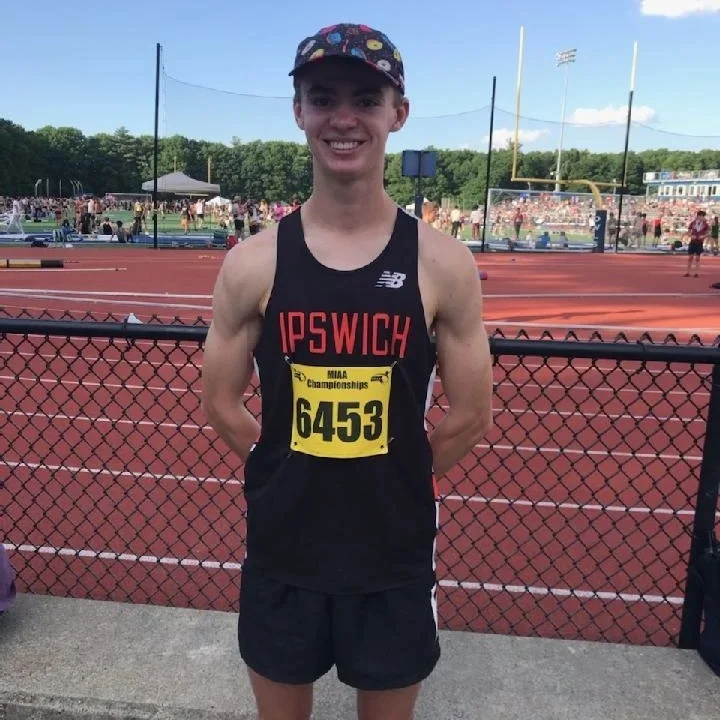 Colin is one of the top runners for the boys' sprints. He helps set an example for other athletes during practices and meets. Colin was also a part of the school record-setting relay in the 4×400 with Keith, where they competed in the New Balance Armory National Championships. Colin was also the Cape Ann League Champion in the 600m with a time of 1:27.76, where he then went on to place 11th in the state with a time of 1:25.32 at the Indoor State Championships. Colin also plans to continue his running into college and is deciding where to go.
Olivia Novello-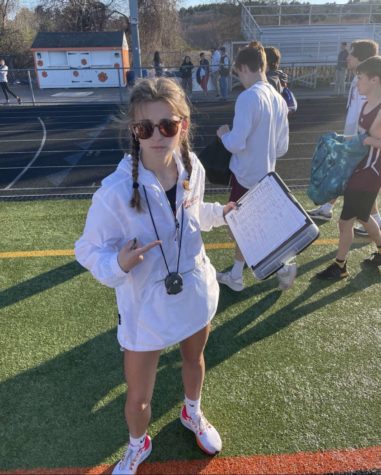 Olivia has brought a lot to the Ipswich Indoor Track and Field Team. She has set high expectations for the hurdlers on the Ipswich team in practice and meets. Olivia set a new school record of 9.19 seconds in the 55m hurdles in the MSTCA Girls Pentathlon, placing 10th out of 103 participants in the hurdles and 19th overall. Another notable highlight is Olivia's involvement in the 4×200, where the team placed 5th at the Divisional Championships with a time of 1:51.39. After high school, Olivia plans on running, hurdling in college, and contemplating where to go. 
If anyone reading this is interested in joining the Ipswich Indoor Track Team, there are some things you would want to know below:
Indoor track is dependent on what level you are at skills-wise. The coaches of the indoor track team are Martin Binette(Sprints Coach), Sue Markos(Distance Coach), and Sabrina Tosto(Hurdles Coach). The practices usually last about an hour and 30 minutes, with a variety of work you could do each day at practice. When asked to describe a typical practice, Coach Binette said, "There are a variety of workouts that we do throughout the week. Kids can expect plyometric work, weight training, mobility work, high-intensity training and interval training. All are designed so kids can be fit and compete at a high level." The goal of the training is to make people see improvement throughout the season and reach your goals whatever they might be.