New Year, New Coach, New Feeling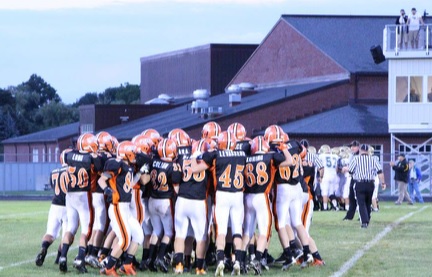 Ipswich Varsity Football has decided to shake things up this year.  New coaches, new plays, new set up, new outlook on the game is what the Tigers have seen over the past two months.
Captain Derek Chamberlain is very happy with the new coaching staff.
"[He has a] very different coaching style from Flaherty," Derek said.  "It's different and he is motivated to win.  I like it."
Coach Greg Brotherton, 39, attended Ipswich High School from 1988-1991.   He won a Super Bowl as a senior in 1991.  He works for the Lynn police department.  He has a wife named Taryn and a 10 month old son named Reid.   Previously he was a defensive coordinator for Lynn English.  He was a wide receiver and corner back.  He was also Flaherty's defensive coordinator for the 2006 season when the Tigers had won the Super Bowl.
Senior Captain Nate Glaster has also stepped up this year for the Tigers.  He has been a Varsity Starter for the IHS Varsity Football team for three years.  Glaster plays wide receiver and corner back.  He is currently the top 20 in the state of Massachusetts for division 3 for his receiving yards.
Senior Captain Derek Chamberlain has always been a driving force for the Tigers.  He has been a starter, like Nate, for three years.  He plays Running Back and is a big presence on defense playing left back.  He has been a go to guy, like Glaster, for this season.  "Number 40 has been very strong this year on the field," said Assistant Coach Judd Daly. Derek has been playing football since he was 8 years old.
Senior Kyle Blomster has been the starting quarterback for the team for the past two seasons.  He is a great player; he is in the states' top 20 for division 3.
Coach Brotherton was looking forward to the season.  He wanted to focus on a different offense than what Ipswich has been running under Flaherty.  He says after leaving Lynn English and coming back to the position of head coach is "like a dream" to him.  He loves coaching and hopes to coach at Ipswich for a long time.  He wants to change up the offense to a spread offense and wean off the wing-t offense.
He is very excited to come back to Ipswich, to work hard and rebuild the team.  His goal is to make it to the Super Bowl.  There are eleven seniors on the team, all with varsity experience and all with different assets and skills that they bring to the team. He is a very decorated coach and he plans to keep decorating himself while he is here.  Every player is very excited for what the season brings and they all hope to have a good turnaround season.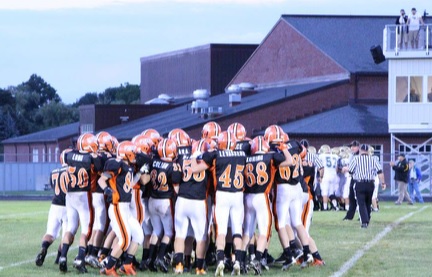 Leave a Comment