The Journey to A Bid
Of the thousands of cheerleading teams across the country, only a small percent of teams find themselves in a position with a bid to nationals. Every year, the Universal Cheerleaders Association holds the National High School Cheerleading Championship, which is "the most prestigious cheerleading championship in the country," according to Varsity.com. Over the past four years, the Ipswich High School Cheerleading team has secured a bid to this competition in Florida and has attended once. 
Every year is different because of the drastic change in the team dynamic after a class graduates. The only constant is the amount of hard work and dedication that the cheerleaders at IHS put in, striving for a national bid and to be recognized as one of the best programs in the state. 
In the 2019 season, our cheerleaders here at IHS have been very successful in each competition they compete at. At the Cape Ann League competition, Ipswich placed second Overall. After pushing themselves even more, they attended the Regional Competition to see if they would move on to states, where they placed third in their division. After receiving third place here, they were able to move on to the State level competition where they placed fourth and, once again, received a bid to Nationals.
Following the exciting news, we wanted to get an insight on how the IHS Cheerleading coach felt about the season. This season Sherri was mostly looking forward to the growth of her team. "Every season I look forward to watching the team grow mentally, and skill wise. The progress of each individual athlete along with the team growth is hands down the most rewarding part of coaching" she said. The growth of your team is the most rewarding and humbling thing to watch.
Though it's a difficult process, Sherri believed that the team would make it far enough to get a bid to nationals. "I knew the team would work hard from the start. The sport requires hard work and dedication in order to grow and get better. It requires extra hours before and after practice. This group would put in that time in order to be their best" says Sherri. This team worked extremely hard with a goal set in mind to keep moving forward no matter how hard a practice or competition is.
There were many proud moments this season for Sherri. She said there was no singular moment this season where she was most proud. "I am proud of their growth as not only athletes but people outside of the sport. I am proud of the teamwork and leadership from each individual. I am proud of their ability to overcome any difficulties thrown at them as a t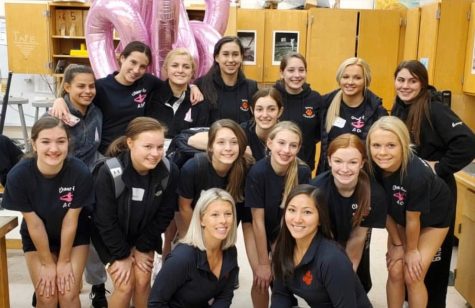 eam. It's hard to imagine such young individuals can have such a powerful impact on my life and my views. I've learned a lot from this group and their truly isn't a single area I can define as a proud memory. I'm really proud of everything they have done," says Sherri. The team agrees with this statement. There was no single moment of being proud. It was the way the team fought through the hard practices and the other obstacles that came their way.
Sherri Bloomster has been involved in both high school cheerleading and competitive cheerleading for numerous years. She knows how hard it is to get a bid to nationals. "Bids are not just handed out each year. There are specific requirements you need to fill in order to receive that honor. The easiest way to break it down is a series of rounds. You have to complete and score well enough each round. If you pass, you advance. If you fail, you don't move forward. This group of athletes passed each round beating out multiple teams for a sport to earn this bid. That's a huge honor and it is all because of their focus and hard work since June," says Sherri. Because of the constant hard work, this team beat the odds over the past four years by receiving a bid each season.  
As well as learning what the coach thought of the season, we thought it was important to see what thoughts a student on the team has. Being on the team for four years and participating in nationals in 2017, Erika Noftall knows a lot about the process. "To start, you go to CALs and your team has to score in the seventies. Then if you advance, you go to regionals and are required to score in the ei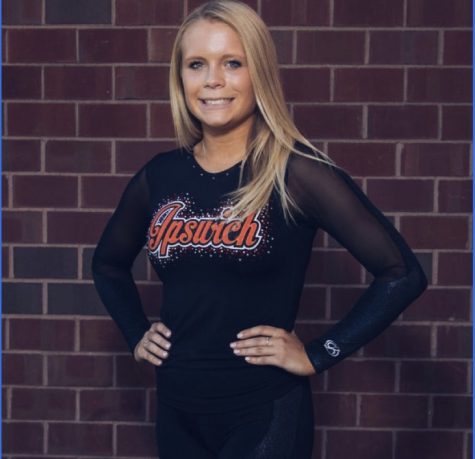 ghties to move forward. If you advance to states, you have to place in order to receive a bid to nationals. Once you get a bid, it's important to fundraise. Also, you are required to participate in a camp to change your routine to fit national requirements," says Erika. While talking to both the coach and a dedicated captain and teammate, it was clear that you cannot succeed unless you put in the work, and that getting to nationals is no easy task.
While the process is long and difficult, Erika says she has really enjoyed the last four years of high school cheerleading. This being her senior year, the moments the team shared this season were really special. "Spending everyday with a group of people that work so hard and want to achieve the same goal is my favorite part of this season. It was evident that everyone on the team were truly working for the same goal. I haven't seen that in a while," says Erika. This year the team had an unmatchable dynamic.
Though it's unknown if the team is using this bid to compete one last time, it is a great honor to receive it. The girls on the IHS cheerleading team have worked extremely hard and getting a bid for a  fourth year in a row is humbling.