Parents Returning To Work, Students Learning From Home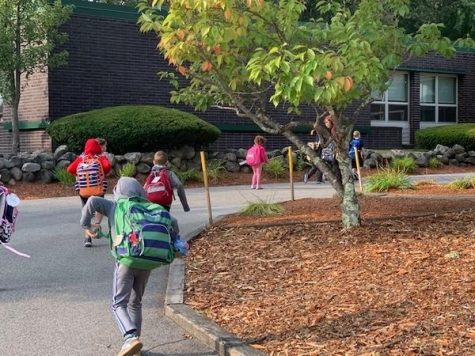 It's not uncommon to hear a younger sibling shouting, a dog barking, or a teacher's child sitting on their lap over a ZOOM call. The world is beginning to re-open after the age of the COVID lockdown, whether we like it or not. Parents are returning to work and kids are (sort of) returning to school. But what happens when your child is learning online but you, as a parent, have to go into the office? Can you bring them with you? Are they old enough to stay home alone? Do you have a spouse or older child around to watch them? For Gina Core, they've got everything under control. 
I had the pleasure of interviewing Gina and Charlie Core about their situation on returning to work and school. The Core family lives in Medway, a town just south of Boston. Gina is a children's therapist whose practice has recently reopened and her husband owns a car dealership. I started off by asking Gina what grade her children are in and what learning model they are participating in for school.
"My oldest son, Ethan is 18 and a freshman in college and my youngest son is nine and in fourth grade. Ethan is all online at Holy Cross and Charlie is at McGovern Elementary School which is hybrid. He goes to school on Mondays and Tuesdays from 8:30 to 2:50."
I followed up by asking what her current biggest struggle regarding being at work when Charlie is home, learning online. 
"Well, since we live in Maine for the summer, Ethan has been spending a lot of time at our house up there, instead of home in Medway. He likes to be up there because it's quiet and allows him to focus on his online school. Some of his friends from Holy Cross stay with him sometimes and they do classes together. He likes that a lot. But, if he was home in Medway, he would be around to pick up Charlie from school and watch him until me or my husband are' home. When he is in Medway, he does so which helps us out big time. But, that is only occasionally. The hardest part is when Charlie is fully online on Thursday and Friday and my husband and I are at work. Both of our jobs don't quite have the flexibility to allow us to bring him in and help him with school."
"Has this problem since been solved or is every day a scramble to figure out how Charlie is getting to school or back home or being taken care of?"
"Yes, thankfully we have hired a sitter/nanny to watch him on Thursday and Friday and pick him up and watch him while we are at work on Mondays and Tuesdays. She had lost her job working at a restaurant in the spring when COVID first hit, and we hired her after seeing her on a facebook page that was started for that exact situation."
"Are your children old enough to be left home alone for a school day?"
"No, definitely not. That's why it's great to have Sydney (the sitter) around."
While doing some research, I came across a similar piece of information. One community that was reopening started a facebook page where high school students could be hired to drive kids home from school, help them with online learning, or tutor them. I thought that this was a great example of the community coming together during this difficult time and I was happy to hear that other communities have that as well. Next I asked a bit about the financial situation, with permission from Gina.
"If you don't mind me asking, has hiring Sydney been a financial burden at all?"
"No, I don't mind. To be honest, she's not watching him every single day, it is pretty sporadic. When Ethan is home, we obviously have him watch him, and that's free. Also, my hours are also sporadic, my clients appointments are spread out and sometimes that allows me to leave and pick him up from school. Also, my husband and I are fortunate enough to be pretty financially stable and comfortable during this time. Although my practice closed down for a few months, the dealership stayed open which was great."
Now, it was time to interview Charlie. I asked him How he likes hybrid learning compared to the way he learned last year.
"I don't like it as much. I don't get to see my friends that much. Plus I don't really like to wear my mask all day. I love when I get home and I get to rip it off"
"How does it feel having Ethan away sometimes?"
"Well, I don't like it that much because he's not around much and I like when he gets me from school in his car and watches me. But my mom says that's what it would be like anyway if he wasn't learning online and at college instead."
"Do you like having Sydney around?"
"Yeah, it's okay. I like when my mom picks me up too but Sydney sometimes takes me to get food after school or to go somewhere outside because she can drive too. When I am home all day on Thursday and Friday she helps me with school which is nice too, like a teacher. I used to not know her very well when she first started watching me but now she is like my friend and my teacher."
It seems to me that the Core family has this situation figured out pretty well. Having a sitter to drive your children around and watch them is a commodity not all can afford, especially during these times. We are all still learning how to adapt. Some are just adapting better than others.