The Highs and Lows of the 2021 Ipswich Football Team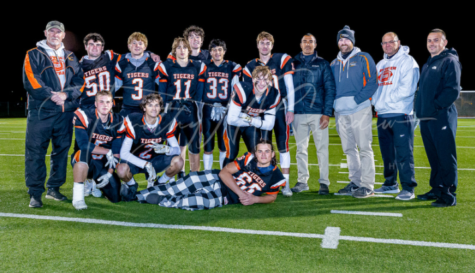 After last year's 6-0 season, the Ipswich High School Football team lost 22 players in its senior class and also former head coach Kevin Fessette. Leaving a core group of returning varsity starters in David Lonergan, Aiden Arnold, Jack Gillis, Charlie Henderson, and Henry Wright to continue the tradition of the program. In Coach Zack Lamkins first year as head coach, the Tigers have fallen 1-9 due to the tough circumstances that they face through their numbers, injuries, and inexperience. Despite these factors, the team comes out every week and leaves everything out on the field, and that is all that Coach Lamkin can ask for.
"We knew going into this season that it was going to be a grind," Lamkin stated, "I think overall the group of kids that we have kind of handled it really well… I think I'm spoiled with the kids we have because it's not easy to be 0-8 and have the mentality we have right now." Since the interview, the Tigers have won a game and also lost one. They now have a record of 1-9. Despite this record, the team comes out and competes every Friday despite being outnumbered most nights 20 players to 40 players. Captains David Lonergan, Charlie Henderson, Aiden Arnold and Jack Gillis have been given the task of leading this team this season, and they have responded well to the challenge. 
"Even though we are 0-8, everyone is working hard to get a win and I feel like that's the biggest thing for me. This is a brotherhood right now and I'm having fun at practice and off the field as well," said Captain Charlie Henderson. Due to the low numbers, the team puts an emphasis on the camaraderie that comes with the sport of football. One of the main goals for the captains this year was to bring this group of guys who had never played with each other before together as one. As Charlie says, "This is a brotherhood; we crack jokes at eachother and have fun while playing football." 
Despite being 1-9 heading into the last game of the season on Thanksgiving, there is still success for this team, especially in the back field. Henry Wright is the leading rusher on the team with 926 rushing yards on 134 carries and David Lonergan has 820 rushing yards on 122 carries and also 317 yards receiving from out of the backfield. The two are a part of the top 5 leading rushers in the North Shore, making an explosive duo in the backfield and both are looking to be 1,000 yard rushers. Quarterback and captain Aiden Arnold has also added to this duo as well, as he opens up the offensive game plan whenever he runs the ball and he has been able to throw the ball as well. 
Injuries have been a tough obstacle to deal with this season for the Tigers, as they lost captain Jack Gillis after their first game due to a torn ACL. Gillis was the leader of the offensive line and a key defensive player at middle linebacker. This forced the team to make some adjustments and throw guys in that had never touched the varsity field before. First year players Griffin O'Brien and Eliot Donovan have stepped up and become huge players on the team. As the injuries have piled up, the team has made the adjustments and is still able to compete.
The Tigers have one game left in the season, after they claimed their first win of the season against Gloucester at home. The last game is the classic annual matchup vs Hamilton Wenham (7-2) on Thanksgiving. Hamilton Wenham made a playoff run but just recently were eliminated in the playoffs by Cohasset by a score of 21-7. Coach Lamkin is looking forward to his first Thanksgiving game as head coach, as he hopes to secure a 2-0 end to the season against his former high school head coach from his glory days at Masconomet High School. The team is also looking to win to gain energy and hype into next season to start a new era of winning. 
"It comes down to us getting more experience and getting more players. We need to recruit more guys as this year we are 15-20 bodies short of having a real football team right now. Our biggest target is getting as many kids as possible to come play. Then our next priority is building off of what the kids did this year, especially the newer kids who never played football before." Coach Lamkin stated about the future of the program. Football programs across Massachusetts have been seeing a decline in the number of kids that come out to play. The only schools that don't seem to suffer from this problem are the private schools as they get the kids from the public schools. It is a tough task for a program to be rebuilt, especially when you start with low numbers in your first season as a head coach. As captain of this team, I believe this team has what it takes to win games next season, as this coaching staff can get it done and restore the team to what it was a year ago before all the adversity hit. The tradition of Ipswich football will continue to live on and will one day be rebuilt to an even stronger program than before.