Ipswich Softball Team
The girls Varsity Softball team of 2022 is looking strong this season! The captains this year are Caroline Spencer, playing first base, Alexa Eliopoulos, left field, Lexi James, short stop, and Jaclyn Dziadose who plays right and center field. Some predictions they have for the season are that all the captains are key players. Sophomore Kate Bekeritis is the catcher and a key player as well. They predict they are going to beat Hamilton Wenham again. They will have a strong start to the season because pre pre-season is important to them. However, there might be a couple of tough games. They hope to have more wins than last year. The Varsity Softball team also hosts clinics and engage in activities in the communities for younger players; they work on skills and communication.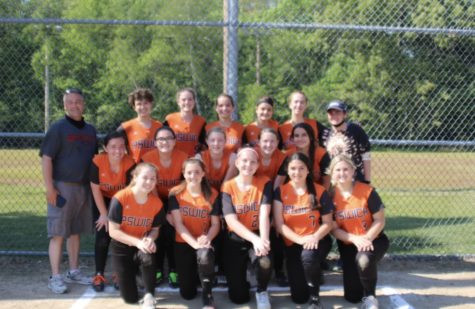 Captain Caroline Spencer said in an interview that, "Our weakness is communicating on the field. Sometimes it's hard to communicate when the game becomes intense and we start making silly mistakes, but it's best to keep moving forward and become focused for the next play. Our strengths are fast ball movement from the outfield into the infield and batting. We have a lot of good players who can hit the ball and get the ball moving around to keep the game going. One challenge I expect our team to face is playing Amesbury because they have D1 players. They mercied us two times last year, and it was very difficult to bat off of their pitcher. They also are an elite team and it really shows us how hard we have to work and practice when we play against them. We will win some games and lose some, but our team has good team chemistry so I hope that helps us move forward."
One thing Caroline is looking forward to is senior night; "I'm looking forward to senior night and honestly just playing because it's my last season." She also hopes to make the playoffs this season for her last and final hurrah. Her favorite part of the sport is "the feeling of making a good play or having a good hit. It feels amazing when you can make the other players on your team proud of you-not only your teammates but also your coach." Caroline has been playing softball since third grade, and even though she had some ups and downs throughout all of her seasons of playing, she stuck with playing and moved past her mistakes. Her personal goals for this season are to be a great role model and leader to the younger players and to not make a lot of errors. "I feel like this year I have begun to have a voice in front of the younger girls on the team, and I think that really helps to have leadership on the team. I think it's good to look up to someone as a younger player and have a good sense of direction, and to keep your head up when the games and practices get tough."  
In conclusion, the girls varsity softball team looks like they will have a successful season. They are a great team and want more people to go and support them. They play their home games at Bialek Park and game time is usually at 3:30 or 4. Make sure to go support your school teams!