iHealth
The International CES (Consumer Electronics Show) is a hotspot for all who thrive on the business of consumer technologies. Held in Las Vegas every year, it has served as the proving ground for innovators and breakthrough technologies for more than 40 years. CES is where next-generation innovations are introduced to the marketplace. The first CES took place in New York City in June of 1967. Since then, thousands of products have been announced at the yearly show, including many that have transformed lives. Some of these technologies include the Digital Versatile Disk (DVD) in 1996 and Blu-Ray DVD in 2003. Only recently have we been seeing health devices at CES. CES 2014 holds innovative new health monitors helping to bridge the gap between science fiction and science fact.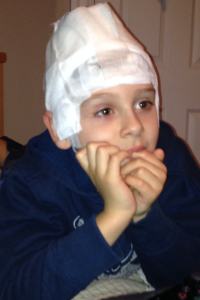 At this year's CES, the company iHealth Lab unveiled a set of wearable medical devices that it hopes will help people keep better track of wellness factors. Although none of these devices will dramatically increase the life span of human beings, it's a great start. Senior Sam Fancis predicts that in the next ten years, everyone will have some sort of health monitoring device on their persona. Already a maker of a range of connected mobile healthcare devices, iHealth is taking the next step and hoping that it can win federal approval for its new set of wearable products, which include an ambulatory blood pressure monitor, a wireless ambulatory electrocardiogram, and a wearable pulse oximeter.
The ambulatory blood pressure monitor is an industry first. The monitor connects to your mobile device via Bluetooth, or to a PC via USB, and is meant to be worn inside a vest. The idea is that it offers round-the-clock monitoring without requiring the user to change anything about their lifestyle or daily routine. Users can choose how often it delivers blood pressure readings, with the options of 15-, 30-, 45-, 60-, or 120-minute intervals.
Those who need to wear an ambulatory electrocardiogram could now have a wireless option, thanks to iHealth. The company's new device features built-in electrodes and a monitor that are ergonomically designed to be lightweight and fit under normal clothing, and to attach directly to the user's chest. The data gathered by the device is delivered wirelessly to the user's mobile phone, which then automatically sends it to the cloud. That makes it easy for doctors to access the data.
Lastly, iHealth plans on releasing a new wearable pulse oximeter that can continuously monitor blood oxygen saturation and pulse rate. Built around a fingertip sensor that connects to a wristband, the device is meant to measure blood oxygen saturation during normal daily activity, or at night. The device can be helpful, iHealth says, for detecting obstructive sleep apnea syndrome, and chronic obstructive pulmonary disease.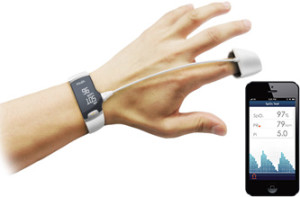 All three devices are compatible with iHealth's mobile app, which displays the data and automatically sends it to the cloud, allowing it to be managed and shared as desired. For now, it's not clear when the devices will hit the market. The company is waiting for federal approval but it says that it hopes each device will be available in the second half of 2014 and pricing has yet to be announced. Senior Bayron Contreas says he is waiting for the day science uncovers a cure for the common cold. Science-Fiction is becoming Science-Fact; one can only imagine the new health innovations that will be introduced at 2015's CES.
Leave a Comment