How to Hide Your Kids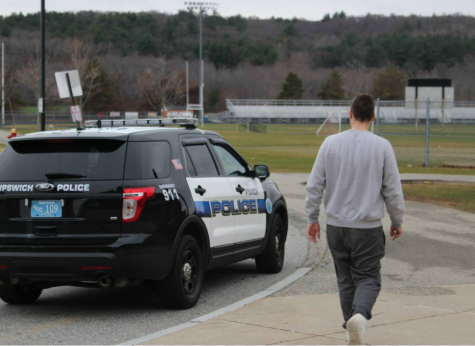 In recent years there have been schools going into lock downs due to bomb threats. Incidents like these are becoming more and more common. Over the course of two days this month threats were received by BC High, Haverhill High School, Billerica High School, Arlington High School, South Boston High School, Woburn High School, and many more. Threats like these forced lock downs, and at some schools even forced evacuations. Every threat was taken seriously and safety crews were called in.
Threats and scares like these always stir up school safety and protocol questions. Here at Ipswich High School there has been a new procedure that was outlined to every teacher on how to handle the classroom during an invasion or serious threat. In the old lock down policy the teachers were told to lock the doors, hide all the kids in the back corner away from the windows, and not open the door for anyone. The new policy simply states to defend yourself. The most important part of the policy is to trust your instinct. But how effective do you think this procedure would be?
The majority of students at IHS feel very safe in the building and have absolutely no reason to worry. However, shouldn't this new policy be discussed by teachers and students? Many students have no idea about the new policy, and the ones who have, only got a brief overview. Ms. Panciera, of the English department, weighed in on the topic saying,  "I have not reviewed the policy with any students; the administration has made no requirements." Dylan Perkins, a Junior at IHS commented saying, "I think there should be open conversations in the classrooms about the new policy. If an emergency situation like this were to happen it is completely necessary for the students to know how to react." All schools have different policies on how to react during a lock down or emergency situation. After a discussion with Ms. Panciera, she made it clear that these types of policies are new. She said, "It's sad to say, but schools are learning from experience." Schools may not change until an experience like this happens.  
Another big topic for debate is teachers being armed in schools. Many city schools have adopted policies for teachers to have guns on them in the school. In many cases serious school shootings could have easily been stopped with just a few or one teacher being armed in the building. Dylan also mentioned how comfortable he would be with a teacher armed in the building. He said "I would not mind if a teacher in the building was armed, as long as there was an extensive background check." When asked which teacher he wouldn't mind carrying a concealed weapon around school he responded with, "I would definitely trust Mr. Pleines with a gun; he seems responsible."
Although the students at IHS feel very safe, there is a bit of a scare when it comes to an intruder entering the building. The new doorbell system has proven to provide an improvement to security but not completely lock it up. There are many more entrances to the school that go unaccounted for. The last comment Dylan made was highlighting how "The school isn't remotely locked up enough, someone could very easily get in without being noticed."
Although the population at IHS feels safe, there is room for security improvements. Within the next few years as school security continues to improve, there will be changes made to schools like IHS that will keep students and staff safe.