It's Just a Prank Bro
Senior pranks are often considered to be the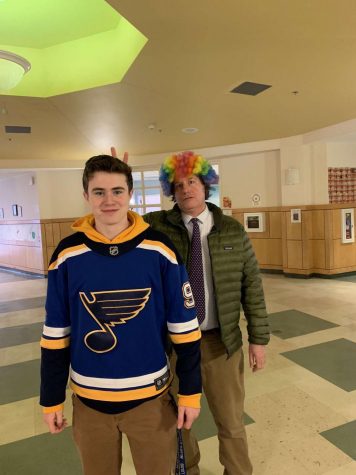 highlight of many senior's year. They provide a fun getaway from the more boring side of school and offer a great way to relieve stress against the school. However, recently, senior pranks have become more malicious and have left a sour taste in many people's mouths. So, what makes a good senior prank and what can seniors do to ensure that they don't get in trouble with the school?
Many teachers believe that senior pranks usually end up going too far and cost the senior class some of their credibility and trust within the administration and faculty. However, when a prank is done correctly, many members of the faculty are often amused by the turnout. For example, we asked Mr. Sealy about some of his favorite pranks. "The kids brought in over 400 pounds of sand and turned my classroom into an indoor beach. Complete with fake trees and lawn chairs. It was amazing." 
When it comes to a good senior prank, seniors often overlook the simplicity of what a prank truly is. Everyone wants to be unique and have a memorable and amazing prank, but many people often forget that sometimes the easiest pranks are the best. When we asked Mr. C about his opinion on what makes a good prank, he replied: "I can't condone this behavior, I'm sorry". But, one thing he said was that we must get permission with him beforehand. However, Mr. Sealy reminded us that a good prank is often the easiest: "I had an interior room with no windows, so one year the kids decided to fill my room top to bottom, wall to wall with balloons. It was a very simple prank but it was quite funny. It smelled like balloons in my room for weeks after that".
As we went on the hunt for teachers, we stopped by Mr.Krieger's room to ask him a few questions regarding his opinion. We asked Mr.Krieger what the worst senior prank he's seen and he said: "There were kids who thought it was funny to superglue the locks, that was stupid and not funny." He also stated, "Destruction of property, racism, violence, etc is wrong to associate with a prank." As said by most teachers we talked too, they said "to be creative and don't overdo it" which is the typical answer for most teachers. 
After doing research, we've come across a lot of pranks that went too far. For example, there were senior students at a high school that attacked students with masks on with firecrackers and cherry bombs, also water guns filled with bleach and urine. This is a prank at IHS that we found to be going too far and wouldn't want to condone that behavior. We've heard recent pranks done by former IHS students and many seniors believe that we can do better. We went ahead and asked some of our classmates for their opinion and surprisingly, most of the students would rather a small but clever prank. Once we told Mr.C that news, he loved to hear he wouldn't have to be stressed during that time. 
As of right now, the seniors don't have any ideas about what we would do. But the 2020 class has a lot of students that can think of a great prank.