What is a Gap Year?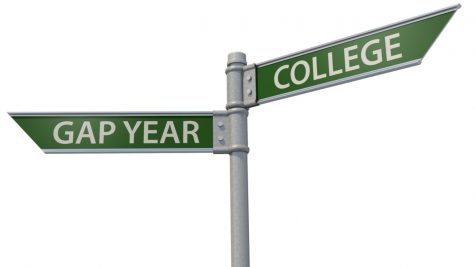 When students get to their senior year in high school, a dilemma arises: What are you going to do after high school? This question ambushes kids because for once in their lives they get to choose what they want. Some kids may have already decided they are going to go college, but if you don't know if it's for you, there's another option: take a gap year. 
A gap year can be as short as one semester or as long as a year and is normally taken after you graduate high school and before you enter your freshman year of college. During this time, you can explore your options, travel, work, or participate in gap year programs. Gap years have become a popular option over the last ten years because many students want a break from school and want some time for themselves, time to travel, or time to discover more about themselves. 
After doing some research, I still had some questions on this matter. I interviewed Ms. Starrett, a guidance counselor here at Ipswich High School who is very knowledgeable on this subject.  My first concern is what do colleges think about gap years. Starrett said that if a student is interested in taking a gap year, then they should go through the application process first. This way, you can have options.
Micheal Mulugeta from TheBestColleges.com notes that "Princeton University provides incoming undergraduates the option to enroll in a nine-month, tuition-free service program." Check with your college of choice to see if they offer this type of option. Mulugeta also wrote, "Some schools like Harvard University, NYU, and MIT encourage a gap year and allow students to defer and come back when they are ready."
One option is enrolling in a program, which could be local, national, or international. Ms. Starret recommended two local programs that she was familiar with, EF Education in Boston and Dynamany in Worcester, Massachusetts. "EF Education First is an international education company that specializes in language training, educational travel, academic degree programs, and cultural exchange" according to Wikipedia. Dynamy Internship Year or (DIY) is a hands on learning experience where students can gain real world experience and explore careers. This program is a great one for students with ADD/ADHD. There are three different enrolment options at DIY: Internship Year, Fall Semester, and Spring Semester. The internship years total tuition which includes housing is $29,400. The fall and spring semesters tuition are the same: $15,540, including housing.   
Ms. Starett also recommended other options to a gap year, such as, "Gloucester Biotechnology Academy.  This is another great option for students that don't want to do the traditional four years at a college but would rather get real life experience and a potential job offer after five months in the lab setting and a three month paid internship", said Starrett. Tuition for this program is $9,000, plus $400 for lab fees. Financial aid is available; 85% of students receive it. 
In addition to the three options offered by Ms. Starrett, there are a multitude of national and international programs. Semester at Sea is a program where students can choose from 25 courses while staying on a cruise ship. Though this program may sound flashy, it's not cheap. Students could be expected to pay $35,000 to $41,000 for the total package.  Outward Bound is a non profit focused on the outdoors. The program lasts 28 days and tuition is $6,895. AmeriCorps is an organization focused on helping the community. GO Overseas is an organization that connects people with gap year programs all over the world. 
Gap years, however, are not for everyone. Travel and programs can be expensive, and if they are not planned out properly, they can be a waste of time and money. Starrett comments, "Some kids like the momentum they have graduating high school and want to experience college right away with their same age.  For some it is harder to stop education for a year and then go back so it is easier to keep going and start college right after high school." 
To really see what a gap year could look like, I interviewed Sam Krason, class of 2019. 
"I chose to do a gap year after graduating because I was not 100% sure about what I wanted to pursue in college, and I did not want to do anything that I was not for sure all aboard on. So I joined Youth With a Mission in Kona, Hawaii to figure myself out more," says Krason.  He is taking a Biblical studies course at the University of the Nations in Kona, which is a university-level course. 
Krason's parents were very supportive of his decision because they did not want to put pressure on him to do something he didn't want to do. Krason said that he recommends kids taking time off. "I highly encourage kids who are graduating to not succumb to the pressure of being like everyone else and making the "safe" decision to go to college right away when they do not even know for sure what they want to study or be. Go out and explore who you are. Jumping straight to college from High School is certainly not for everyone." Krason concluded, "I am very glad about my decision and I have not looked back since." 
If students need more guidance about their future, they can talk with the guidance counselors anytime. They have great information and resources and will be happy to answer any questions.