Shredding the Slopes This Winter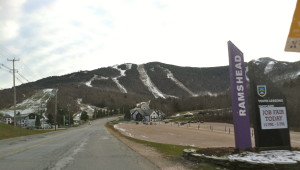 Winter is approaching; days are getting shorter and the temperature is getting colder. What better thing to do this winter then go skiing or snowboarding? Even if you don't know how, rent a pair of skis and have some fun! Here in the Northeast, we have an array of different mountains for different people: big, small, difficult, easy, family oriented, or expert oriented. You name it and we pretty much have it. I'm going to count down my top three favorite mountains in no particular order, so sit back, get on your computer and get ready to book some trips and make some turns!
The first mountain I am going to discuss is Sugarloaf in Carrabassett Valley Maine. This is one of the larger mountains on the East Coast that has terrain for beginners and experts. Our own Mrs. Killian is a Sugarloaf regular who owns a house right up on the mountain. She says "For all the years I've skied there I have never gotten bored. Everyone is so warm, nice and welcoming. Every time I am up there I find new terrain and different trails to explore and challenge myself with. I love Sugarloaf and I would never want a different mountain to be called my home mountain." This mountain is just overall fun. Sugarloaf is a family based mountain with challenging terrain and activities for all ages. Sugarloaf's lift tickets usually run anywhere from 60-90 dollars. The employees truly want you to have a great experience and come back again.
Attitash is another mountain that most people love. Attitash is located in Bartlett, New Hampshire. It is a great family-oriented mountain with eleven chairlifts and old style terrain that allows you to shred up the corduroy and never get bored. One of our high school students, Vinny Martineau, has been going to Attitash since he was little. He said, "I really love Attitash; it is a great mountain and usually one of the only mountains that I enjoy skiing at. They have everything from great trails, a pretty decent terrain park and nice condos." Attitash is the only mountain in the valley with their condos/hotels right on the mountain. This mountain has activities for old and young ranging from ski lessons to "rail jams". It quenches the thirst of all skiers with many different styles and abilities of skiing. This mountain has longer lines, but tickets are pretty fairly priced, ranging from 50-70 dollars in price.
The last mountain I am going to talk about is the beast of the East: Killington in Killington, Vermont. This mountain is one of the biggest mountains on the East Coast. Located in Vermont, the mountain gets snow early and is already opened top to bottom. Killington is a more advanced mountain but can also entertain beginner skiers. It has one of the best terrain parks in the East Coast and is the mountain of choice by most college students. Students come from the University of Vermont, Green Mountain College, Saint Michael's and even Castleton State University. Most of them say its a great value with their school passes. It's a huge mountain with endless opportunities and endless fun. Killington is easily one of the nicest mountains on the East Coast with state-of-the-art snow making and early opening dates. Lift lines are going to be longer but so are the trails and the tougher terrain. A lift ticket at Killy typically goes for 60-90 dollars.
Leave a Comment