Bagel Debate
          What is the perfect all year round breakfast? The answer is obvious: a bagel. You may find yourself enjoying these pastries at the beach in the summer, brisk early morning soccer games in the fall, freezing in the car during a snowstorm, or even at a sunny Sunday lacrosse game. They are easy, fast, and filling. Personally I find myself often wondering where  I should go to get the best bagel. Here on the North shore we have plenty of options,  but what restaurant produces  the best one? 
           I decided to ask Mya Pratt,a  junior at Ipswich High. he says,"For convenience before school and after a long night on the weekends, the best place to go is right here in Ipswich, Jetties." Jetties bagels are different from other ones in this area. This is because they are made like no other bagels in the area. They are specially handcrafted; the bagels have a tough and crunchy shell and a soft and puffy inside. Jetties has a selection of 12 bagels most of the time, but often offer an additional two that are seasonal flavors. They also have a wide spread of cream cheeses. This makes it so that everyone can get something that they want.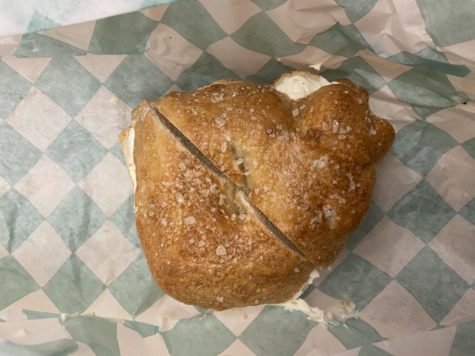 On the other hand, when I asked an adult, Stephen Krause, an avid bagel consumer, he prefers to go to Best Bagel in Georgetown. "It's the same quality as Bagel world but for a fraction of the drive and line." With a wide variety of bagels that are your large classic style, you can't go wrong. Best bagel also has a wide selection of cream cheeses and coffee. Best bagel  has a quicker turnaround time than jetties, so you are in and out quite quickly in comparison to Jetties and Bagel World. 
Here is a chart with all of the necessary criteria to choose the perfect bagel place near us :
Name

How far from School

Price of bagel w cream cheese

Price of bagel w butter

Price of dozen bagels 

Price of coffee

Online Ordering

Number of Bagel Flavors

Abraham Bagels

19 min drive

$3.50

$2.80

$12.99

SM – $2.54LG – $2.75

Yes 

18

Best Bage

l

18 min drive

$2.89

$2.09

$11.99

iced – $1.99

Yes 

19

Jetties

3 min drive

$2.33

$1.87

$14.00

Iced $2.57

Yes

14 sometimes 12 most times

East End Bagels

8 min drive

Not on website 

Not on website

Not on website

Not on website

No 

18

The Bagel Shop

14 min drive

$3.06

$2.57

$14.95

$4.77

Yes 

14

Bagel World

25 min drive

$2.10

$1.64

$12.84

$2.34

Yes

21