"This Is an Article** of a Girl": Morgyn Kivekas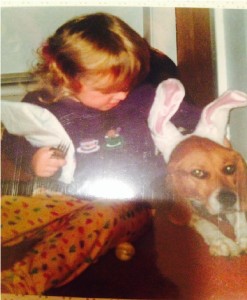 If you're not already aware, Ipswich High School is a fairly small school. Everyone knows everybody and we all strive to be good students. We have all made friends and enemies and we have all done something worthwhile. There's something about everyone who attends this school that makes them who they are: unique. This school is a big part of our lives and through that, it has  helped play a part in shaping the students who attend here. One of those people happens to be Morgyn Kivekas.
Morgyn Kivekas was born May 24, 1996. She moved to Ipswich in second grade and has grown close with a lot of people. She has basically been growing up with all of us, her entire life. You may have gotten to know her through sports such as softball, soccer and possibly even volleyball, and maybe even through work! She has worked at several jobs in the past, from being a host to catering parties. She is all about self-improvement and that is evident through her lifestyle.
If you ever meet Morgyn, you can automatically tell that she's an independent girl. From school work to home life she is very independent.   She happens to have a strong bond with her family, and that also played a part in getting her to where she is today. "I feel I am independent because I was raised to work on my own because there aren't always going to be people nearby to help you," Morgyn stated. This is a very true fact when it comes to life; everyday is a challenge to grow and challenge yourself. When she took the opportunity to challenge herself, she ended up getting A's and B's her entire high school career. She was serious when it came to her studies and it paid off because she ended up getting into all of her choice colleges. Morgyn happens to want to be a teacher when she's older. She wants to help elementary students become the person they want to be and to grow up to be strong like herself. "I love the thought of making a difference in someone's life, especially children who don't have it easy. My fourth grade teacher inspired me to become a teacher and she was an amazing person".
Morgyn learned to be independent at a very young age. As previously stated, when she was in second grade she moved to Ipswich, MA. This was a big change for her because she may have been young, but being put in a new environment is a challenging task. When she moved to Doyon Elementary School, it was in the middle of the year. She remembers exactly how she felt; "Moving in the middle of the year is a very difficult challenge because everyone always has their group of friends and it's hard to join a place where you feel like you belong" said Morgyn. When you're in second grade, you're still developing the pieces of who you are. When Morgyn moved, she happened to be shy, but she had been slowly growing out of that. In second grade, she realized things weren't as bad as they felt like after the first couple of weeks, "I was excited when people in my class opened up to me. I realized that I was just being shy and had nothing to worry about," she stated with a smile. Another thing that helped her be independent was that she always saved up her money at a very young age, she didn't want to depend on someone else. This way, she is focused on the future and is taking care of herself, which gives her a great feeling of accomplishment.
Another thing that is very special about Morgyn was the fact that she's a very loyal friend and person. When talking about loyalty, she says, "I am the type of person to give my shirt off my back just to help someone". An experience of loyalty that she recalls was when one of her friends was going through a tough time in life and they took the opportunity to talk to her about it. Knowing how delicate the situation was, she kept it quiet. She helped them through what they were going through as much as she possibly could.
She also is loyal to her teachers. One time, she noticed that a student was cheating on her test and instead of remaining quiet about it, she spoke up and told an authority figure. It was a hard thing to do, but she couldn't let it slip. She found it unfair for a student to take advantage of a situation such as that. She also is loyal in the sense that she cares about people. Even if she doesn't know them that well. When she sees someone sitting all alone at lunch, she takes the opportunity to invite them to come sit with her because she knows how it felt. "I always lend a hand and ask them if they would like to join my friends and me. I feel this shows how loyal I am to others. Even If I am not close friends with them, I feel it is the right thing to do".
Morgyn is a very ambitious person. She always considers the future and has certain things she wants to achieve. She not only wants to make the people around her proud, but most importantly make herself proud. When she begins college she hopes that all of her knowledge and life experiences help her so she can apply them to what she needs in the future. For college, she's excited to meet new people and learn more about her major.
Morgyn is dealing with similar things that every person deals with at IHS, but she is also balancing a lot of things. Since we're seniors in high school, we're worried and apprehensive about the future, but we're all in the same boat. We're gonna make it! Morgyn is just one example of a student who is in the process of becoming a functioning member in society and we all have something important and unique about us, so let's apply them to our futures and grow!
Leave a Comment