How effective is TAP?
Through incidents such as Columbine, Sandy Hook, and the recent death of a Danvers' public school teacher, many of us begin to wonder; what could have been done to prevent these tragedies? It seems as though each one hits home at each public school, each in ways that make school administrators re-evaluate their means of school safety. Here, at Ipswich High School, teachers have come up with ways to reach out to students through the TAP Program. Through this program, current issues are brought up as topics to hopefully help ease students stress which may be the cause of a troubling present day event.
The Tiger Advisory Program (TAP) was formed by fellow Ipswich High School teachers to create an environment where every student is assigned at least one adult, to ensure that they are provided with someone they feel comfortable talking to in a small group setting. Teachers feel that by providing each student with a teacher adviser, students will be given numerous opportunities to bring up issues they are having in order to hopefully find ways to overcome and solve these problems.
Although teachers feel this program is necessary for the well-being of the school itself, many students seem to have differing opinions. Some students feel that this program is a waste of time during directed study as they just sit there listening when they could be getting their homework done for other classes. Other students, however, feel that the program benefits the students. Benefits given by this program may be getting advice on how to deal with a tough situation or even talk about popular topics that are occurring world- wide, such as school violence or drug use.
One of the Ipswich High School's student counsel advisors, Olivia Moutevelis, was able to give me her opinion on the program. "Since I have to bring up the issue at the counsel meetings, I talked to other students about how they felt about the program. I  noticed that many of the topics and activities are brought up by teachers and not the students themselves, which does not interest anyone, including myself. I suggested that we should have student leaders run the program, where each group will have competitions against other groups. I feel like having the students more involved will make the program that much more effective".
Current Spanish teacher at the high school, Ms. Merullo, is a member of the TAP committee and was able to tell me about her input on the new program. "At first, we (the teachers), had a set vision of this program which would allow students to talk about certain issues occurring in our community. However, after the first meetings we knew that the students were not satisfied with the outcome. It turns out that we needed to make a few changes to the program itself that would allow the students to be more active in the discussions of the topics, hopefully triggering them to talk more about what they need to talk about. It's still a work in progress but we know we'll figure it all out soon".
For now, the TAP program is still undergoing necessary changes to benefit all parts of the school community. The different opinions just give the teachers more means to help out the students, and hopefully one day the program can be a model for other schools to somehow incorporate into their school policies as well.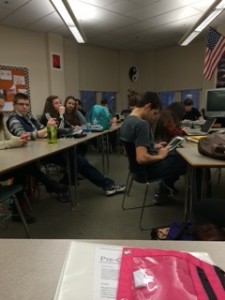 Leave a Comment