A Fight for the Ages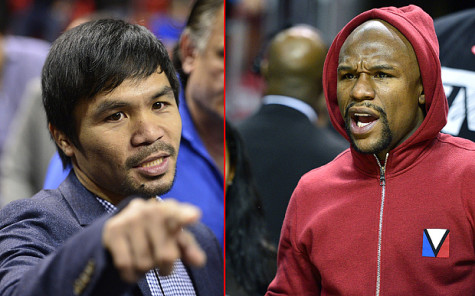 Manny Pacquiao and Floyd Mayweather have been scheduled to fight on May 2, at the MGM Grand Arena in Las Vegas. The road leading up to the fight has been a long one, full of tension filled negotiations, contracts, and an insurmountable amount of money. The fight was confirmed on February 20, after Mayweather signed the contract that agreed to fight Pacquiao on May 2. It is being regarded as the greatest and most anticipated fight since Muhammad Ali and Joe Frazier went toe to toe at Madison Square Garden on March 8, 1971. Pacquiao's astounding record of 57-5 with 38 KOs, and Mayweathers undefeated record of 47-0 with 26 KOs is the why the fight is in such high regards. It is ultimately the fight to decide who the greatest boxer in the world is right now. Several bets have already been made on the fight.  Rapper 50 cent has bet 1.6 million dollars on Floyd Mayweather, claiming, "He can't lose." In an interview with Ipswich High School Senior Angus Mauser, Angus gave his thoughts by saying, "I respect Floyd Mayweather as a fighter, but I really want to see his face get bashed in by Pacquiao." Angus also claimed he is an, "unlikable fighter, and showboats way too often." He wishes the fight could've happened earlier as does the rest of the boxing world, but Angus is still confident that the fight will be a great one and hopes Mayweather will face his first defeat against Pacquiao on May 2.
Many claim that Mayweather's intense popularity has allowed him to call the shots in his fights as well as allowing him to actually pick the fighters he goes up against. With this kind of power, it is only natural that he would pick fighters who are at a lower skill level, which is why he has remained undefeated for an astounding 18 years. Pacquiao has always been on the list of fighters to avoid for Mayweather; it would seem that Mayweather is just flat out scared of losing.
However, this is the fight the boxing world has been waiting for years. There are no more excuses and no more delays; the fight was inevitable and now it has turned from fantasy to reality. The hype for the fight has been the greatest promotion ever in boxing. The expected purse from the fight could hit 300 million dollars, 250 million from the shared purse, and another 50 million coming from pay per view. Both fighters have agreed to split the purse 60-40, Mayweather receiving 60 percent and Pacquiao receiving the other 40. It proves Pacquiao isn't really in this for the money and is more devoted to giving the boxing world what they've wanted for years.
In recent interviews with Ipswich High School Senior Alex Nelson, Alex stated, "Mayweather is clearly the favorite; they're both very skilled fighters and I'm rooting for Pacquiao but I don't think Mayweather can lose right now."  This is one of the greatest boxing matches in the history of the sport. In fact, I decided to interview my grandfather who is a former boxing enthusiast. He claimed that, "Pacquiao will come out on top; Mayweather showboats too much and that's gonna kill him." Both fighters are regarded as two of the greatest in boxing history.  Therefore the victor will become legendary and will ultimately rule the boxing world. Tune in on May 2, 2015 with HBO and Showtime Pay per view for $99.95 as the world watches the two greatest fighters of this generation go to toe to toe at the MGM Grand Arena in Las Vegas.