Necessary or Unnecessary? Standardized Tests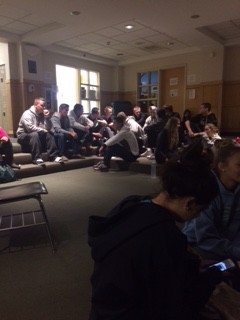 Are composite scores and long test days stressing you out? College planning can be time consuming and a cause for worry already without the added factor of standardized testing. So why are incoming undergrads required to take these frustrating high stakes test? Aren't GPAs, recommendations, high school transcripts, and endless applications enough for these schools to decide whether we are right for them? The SATs and ACTs are added necessities that contribute to students feeling like they have the weight of the world on their shoulders.
For those who struggle or agonize over standardized tests, they seem unreasonable and unnecessary. As senior Lilly Kallman says, "I do not think that students should be required to take standardized tests. However, I recognize the importance of them when combined with your high school transcript, extracurriculars, and recommendation letters, which you send to prospective colleges." If you are a frustrated standardized test taker, then this may ease your anger.
The SAT test is an aptitude assessment created to measure your reasoning and verbal abilities. This is suppose to test your ability on academic areas that college admission officers cannot infer by looking at your GPA. In this respect it seems like a fair test; however, the amount of stress adults put on students about these tests is just too much for students to handle.
For students that would like another chance to impress potential colleges, the SAT and ACT may seem like a great opportunity. This can really increase their chance of getting into their dream school if they are able to represent themselves clearly through these tests. The more positive factors you have to submit to your perspective colleges, the better chance you have of getting accepted. In some cases colleges get down to just a few students and your test scores could be the deciding factor of which lucky student is accepted.
Other students work themselves up to failure with the amount of stress they place on themselves before taking these tests. In fact, Kallman said, "Yes, I was very nervous to take this high pressure test because I hoped that it would mirror the rest of my academic portfolio. I have set goals for myself and therefore take test day quite seriously." Not only are you taking most of your Saturday to actually take these tests, but you also need to take the time to prepare if you are interested in succeeding. Kallman describes how she prepared by stating, "I studied for both tests on my own and with the help of a tutoring service." This brings up the preparation aspect.
Many students would benefit from a tutoring service but the costs of the test alone are high enough. Mrs. Karpinsky, an IHS guidance counselor, explained that there are ways of getting tutoring for free. "Last spring College Board announced a partnership with Khan Academy and all students across the country now have access to free online tutoring to help prepare them for the test. We also have study books in Guidance that students can use." Although these methods may not be as beneficial they are still useful tools. When asked if she was prepared from school Kallman said, "As far as the material on each test, I was prepared from school. I have been taught the majority of the content on each of the tests. However, I had no experience with practice questions or tests." This is something that many student wish was more incorporated into our school schedule.
Tutoring costs coincide with the expensive costs of the tests themselves. The SAT test costs a whopping $52.50, while the ACT with writing costs $54.50 and without writing $38.00. These fees may be acceptable as a one-time cost, but depending on the amount of times you take each test your bill will add up. There is no discount according to how many times you register; these costs do not change.
For those of you who think SAT and ACT tests are unnecessary and not a good representation of what you can do, you'll be happy to know, "Many colleges and universities are test optional or test flexible because they believe that the test, taken on one day in time, is not necessarily a reflection of a student's true academic ability and potential"(Mrs. Karpinsky). It seems as though there may be a light at the end of the tunnel; over 850 colleges have test-optional admissions work to evaluate the whole applicant. This includes, essays, recommendation letters, interviews and good grades in difficult classes. Although this may not be a large amount of colleges out of the thousands, they are out there.  Change may be coming.
When stressing out about these painful standardized tests, remember that your peers are in same position as you. They are all feeling that same pain and nervousness. These test are something that will benefit you in the end, and you have as many chances as you are willing to take.
If you are still in panic mode, don't worry; every high school senior feels your pain!