The Sullivan Report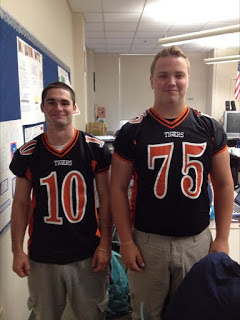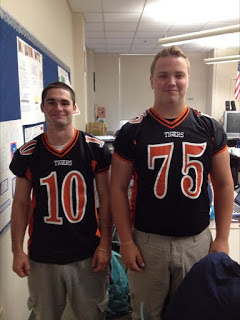 The Sullivan Report
The last time the Tigers Football team had won a state championship was in 2006 season. Ted Flaherty was at the helm and coached all star talents, including Steve Phaneuf and Nick Layman. Now in the 2015 season, the Tigers are led by new coach Kevin Fassette and captains Jake Long, Josh Brown, and Alex Morris. This group will work to get the Tigers back to the powerhouse they once were.
In the wake of the deflategate with the New England Patriots, I thought I would investigate the Tigers Football team and their footballs. I interviewed players, investigated footballs, and researched the MIA's regulations to see what I could find with a thorough investigation. I wanted to see if similar issues were going on in High School Football, and I was surprised with what I found.
First I started by reviewing the MIA's regulations with footballs and other rules. The only information I could unravel included,  "Teams may play with leather or composite footballs" and "each football used should be inflated to 12.5-13.5 PSI". Already it seemed strange to me that there weren't many rules put in place at all about the footballs used and pressure was never checked. I tried to find the MIA commissioners number but couldn't find it anywhere.
Since almost no rules are put in place and the balls are never being checked during pregame, teams could be doing whatever they wanted to with their balls.  This is when I began questioning players in order for me to grasp more knowledge.
This information led me to interview one of the captains: Josh Brown. I asked Josh three different questions for me to get farther along with my investigation. Josh was a sweetheart to interview and gave me some valuable information. My first question for Josh let me know that Ben Yannakakis, a freshman quarterback, had the balls with him the most often and was known as the "ball boy".  Along with that information, Josh also gave me his preference in football weight, stating, "I prefer an over-inflated football to an under-inflated one because of the surface area and it makes option plays easier for me as that's what we run for an offence".
This is similar to how Aaron Rodgers likes his footballs (overinflated) as opposed to Tom Brady who obviously likes a deflated football. My last question for Josh was if he ever suspected another team of tampering with the footballs. He then gave me a story: "In the summer, our team's footballs were misplaced and likely stolen; all the balls had Ipswich written on them and they were never recovered". This seemed suspicious to me; a team could have framed the Tigers of cheating or could have stole the balls for their own use. My interview with Josh led me to my other two interviews. I would like to thank Josh Brown for his time.  He is a good friend and a prestigious football player.
After my interview with Josh Brown, I decided it would be best for me to interview Ben Yannakakis. Ben is a freshman who plays quarterback for the JV team and is known as the "ball boy". Ben was stone cold throughout the interview and gave me short, yet sweet answers. I started out by asking Ben where the footballs were kept and who had the authority of keeping track of them. He stated, "We keep the balls in a bag in a storage room in the gym. I touch them when I bring the bag out and take each ball out to be practiced with. I don't do anything out of ordinary with the balls."
He sounded a little nervous with my questions and treated them more like accusations. He also went on to tell me he doesn't believe that he's manipulated the balls in anyway and has only touched them to break the balls in prior to the game.
I then switched the subject from himself to his fellow teammate Jake Long (the Varsity quarterback and All star athlete). He got a bit more comfortable with me and said, "I have seen Jake Long with the footballs alone; usually before the game he takes them out and chooses which one he likes and we break them in." When I asked him what the boys did to break the balls in, Ben gave me a quick "no comment" which seemed rather suspicious. I became more confident that high school teams around the state could do anything with their footballs after my conversation with Ben, and he helped me choose who I should interview next. I would like to thank Ben for his time while I reviewed this matter.
My last questions were asked to Tom Gallagher, who is the Athletic Director for Ipswich. I thought it would be beneficial for me to question him and see what he thought of the MIA's rules. I started off light with asking how he thought the new coaching staff has been doing with a Tigers team who is currently 1-3. He told me that he was impressed with how the coaches have motivated the players and are trying to change Ipswich into a winning culture again.
I then asked if he was aware of who in the Ipswich football organization had control of the team's footballs on a daily basis. He replied with, "I believe the coaches leave the quarterbacks in charge of possessing and handling the footballs." This seems as if it has been a ritual for the quarterbacks. My last question to Mr.Gallagher was if he had ever been suspicious of another team's handling of their footballs. He replied with "No, I haven't ever really suspected anything or really even thought of it; I don't think it would affect the game much anyways." This quote was interesting to me because although he has never seen any proof of anyone doing something with the footballs, it seems he wouldn't be surprised if some teams did. He also doesn't think it would hurt the results in the game, which I agree with to a degree. However, the pressure in the football could affect a ball when it is fumbled, which could impact the game tremendously. This interview helped me come to my conclusion that high school footballs aren't regulated properly, and I have decided to close my investigation.
After investigating the Ipswich Tigers for the past two weeks, I was able to come up with a final conclusion and official ruling. I have declared that the Ipswich Tigers never knowingly tampering with footballs, and the MIA does not have the necessary regulations to find a team of being guilty even if they did.  There are no regulations about to how you can use the footballs and their is no one who checks the balls prior to the game. Teams around the league can freely use their footballs in any fashion they choose. Questioning the players helped me grasp how weak the football rules are in the MIA. Just about any team in the Cape Ann could be breaking the rules, but it doesn't matter because these rules are never enforced. If anyone should be disciplined from this investigation, it should be the MIA and their commissioner for having nothing in place for what a team can do with their footballs.
I would like to finish the report with giving a thanks to some different people. Thank you Ms. Mcshane for being so understanding and easy to work with. A special thanks to those I interviewed, who were respectful throughout the process. Lastly, I would like to thank the Ipswich High School for allowing me to conduct this investigation.