The Person Behind The Desk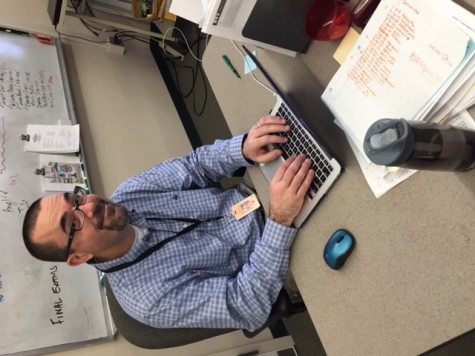 A teacher doesn't just have to be a teacher; they are a friend, a guide, a supporter and most importantly a mentor. Sometimes during your high school career you will stumble upon a teacher unlike any other; Mr. Sidmore influences many students to learn and understand the meaning of many things. His life outside of school is what forms him to be this kind of teacher.
You may wonder how or why Mr. Sidmore became an English teacher at Ipswich High school. He attended Danvers and Essex Christian Academy throughout high school and really loved to write. He moved on to Gordon College where he first majored in history for two years, then got bored of it; so he switched his major to English because he loved creative writing. Figuring he couldn't make much out of a creative writer right out of college, Mr. Sidmore decided to go to grad school at Northeastern University where he then majored in education. Mr. Sidmore got a job teaching at a middle school in Lynn; after two years he decided that it wasn't intellectually satisfying but still wanted to continue his passion for teaching. Therefore, when he heard about the job here at Ipswich High School, he jumped at the offer. When Mr. Sidmore was asked about what he wishes to get out of his students, he replied with, "I hope they will learn to appreciate great works of literature and that they can express themselves through writing. I want them to develop a love for reading and writing in their own personal way." He has led many students to accomplish these wishes he had for them.
Mr. Sidmore has been happily married for fourteen years to his wife he met while playing basketball after college. He has two kids, Isaac who is eight years old and goes to Doyon School and Silas who is three and you may know him from Tiger Tots. Mr. Sidmore explains that raising his kids have been his greatest accomplishment as well as "surviving this long in education" with the abrupt things that go on. One of Mr. Sidmore's biggest regrets in life is that he wishes he had continued playing the saxophone and drums. He played them for nine years and has a passion for playing and composing music. Mr. Sidmore fears the common things such as sickness and failure whatever shape that takes, but as a teacher he fears that he won't be able to get through to his students. After interviewing past students who have had Mr. Sidmore, Jake Long states that "Mr. Sidmore has been able to get through to me unlike most teachers and has formed my style of writing into the next level." Jake explains that Mr. Sidmore has shown him a mature style of writing.
Teachers have a strong impact on how a student will succeed in their life. When Mr. Sidmore was asked to describe himself in one word, he chose determined. He is determined to help every student he has had to create a brighter future for themselves.