The Art Of Teaching
In this day and age, education is more necessary than ever. Becoming a self-dependent person in society is nearly impossible without a solid education. Luckily, there are people willing to deal with students day in and day out. They are making countless efforts to give their precious information to students who may not even care about what they are saying. They are constantly being disrespected and barked back at for their wrong approach, heavy workload, or assignment dates. Each teacher deals with a variety of  kids who may have a bad work ethic, no motivation, or are extremely attracted to their phones. This always raises the question of who in their right mind would want to put up with this?
For some, teaching is a true passion. There are people who wake up every day and look forward to educating the youth. This is something we should all be grateful for.
For Mrs.Latimer, who is a second year teacher here at Ipswich High School, her passion started at the age of 5. Her favorite toy was a Fisher-Price school house. Right then and there she knew she wanted to be a teacher. The interest developed through her love for the outdoors and science.  
As a freshman at Gordon college, Mrs.Latimer originally went into teaching but quickly made the switch to major in biology and psychology. Mrs.Latimer said "I didn't like the concept of being taught how to teach at the expense of learning the material to be taught." Mrs. Latimer went on to home school her 5 children. This is when she knew she needed to teach teenagers for a career. She said, "the best part of teaching is being a nerd and learning more from what you teach." She is particularly attracted to teaching teenage students because they ask such great questions that even she would never think of. This forces Mrs.Latimer to look at the subject matter from different angles, or even do further research on the subject. This makes science not only a learning experience for the students but also for Mrs.Latimer.       
Other than her past, Mrs.Latimer is inspired to teach due to the era we live in. She said, "We are entering a time of serious environmental devastation and political choices that may affect the entire biosphere. It is very important for students to learn about the effects of a huge human population that is throwaway-based living in such fragile environment." The importance of science in school is what keeps Mrs.Latimer focused on her task of raising awareness for the youth.
Overall, Mrs.Latimer has enjoyed her experience in teaching and loves the students at Ipswich High School. She describes the student population as supportive. She said "For some, high school can be a scary dark place but this school makes everyone feel comfortable in a healthy environment." Teachers are among the most important people from our youth, and in many ways we under appreciate it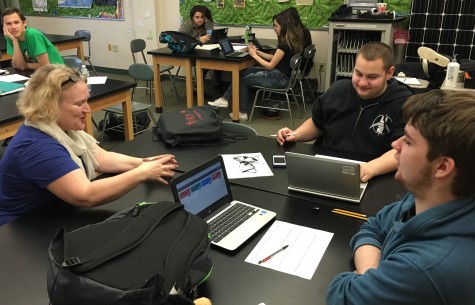 . So the next time you stumble upon a teacher who is truly inspired to teach, give them thanks!