Crossing the BRIDGE to Your Future
Every year at Ipswich High School, seniors get a chance to participate in an internship program, called BRIDGE. BRIDGE stands for Bringing Reality Into Diverse Growth Experiences. The BRIDGE Program is the the senior year School-to-Work Program. It's a five to seven week, full-time internship, that the seniors of IHS participate in to experience what it takes to succeed in a career while gaining real world experience. Eligible seniors will leave school at the end of the third-quarter, April 7th, 2017, and finish the program on May 19th, 2017. Popular internships are Beverly Hospital, Ipswich Police Department, and Doyon/Winthrop Elementary Schools.  A large group of the senior class chooses to participate each year. Some love that they will be able to leave high school a little early.
The BRIDGE Program requires a minimum of 30 hours per week at the site. These 30 hours allow the students to gain real work environment experience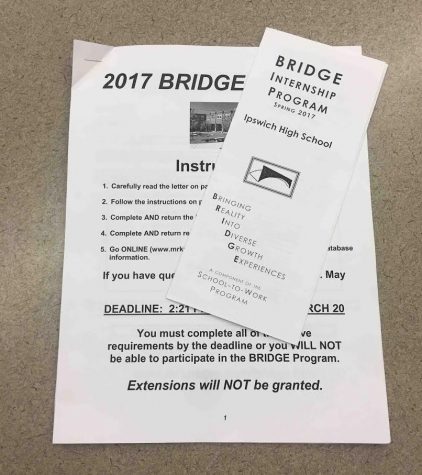 . Many students who plan on going to college have to pay their own tuition, which can be very expensive. For the lucky students that will be getting paid during their internship, the program will allow students to get a head start on their savings for college.
Although most students would love to participate, they might think their AP classes will conflict with the program. Students participating in AP courses will receive a 4 hour deduction to the 30 hours for each class. If a student has more than 5 combined tardies, dismissals, or absences in the third quarter, they will not be eligible to take part in the program. Some might think that is an easy task to overcome, but when the third quarter comes around, let's just say seniors start to slide.
Ipswich High School Senior, Chloe Primack said, "I think the program is recommended because it's a great opportunity to get ahead and make money for college or get job experience for someone who hasn't had a job." Chloe Primack is excited to start her internship at a bank to acquire real life accounting skills before she heads off to the University of Massachusetts in Amherst in the Fall.
As said before, the BRIDGE program allows the students to get a feel for what a real world work experience is like. Most students will shadow a job they are interested in and could potentially influence their future careers. Students that participate will learn the skills necessary to succeed in the career while also getting the real world experience depending on the job they are shadowing. They will get the opportunity to learn and apply workplace skills needed to succeed in the real world of work. We also asked teachers about what they think of the program, seeing as they will be losing some of their students. Ipswich High School Math teacher, Mrs Manos said, "I think it's an excellent program and absolutely support it. The Bridge Program is a wonderful opportunity, and I would love if the school made it mandatory."  Mrs. Manos told us how she even wishes that when she was in high school she had this opportunity.
The program at IHS is a great opportunity for seniors to grow as a person in many different areas. The students will learn real world skills as well as grow in maturity. BRIDGE allows students who are tired of the same classes everyday to try something knew. Allowing students to get out in the world and experience a real job site can benefit their future careers.