A Frat To Die For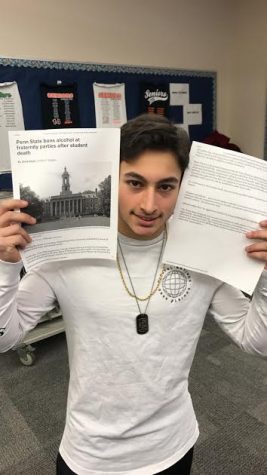 While heading to a party everyone experiences different emotions. It can range from raw excitement to pure anxiety, but nonetheless you're looking forward to a night out. You think about the basics; how will the night go, who will you see, and what will you do. But one thing nobody thinks about is death, and once they do, it might be too late.
Timothy Piazza, a sophomore majoring in engineering at Penn State, was heading to a pledge acceptance ceremony on February 2nd, 2017. Tim was a pledge member of the Beta Theta Pi Frat. Around 11 p.m that Thursday night, Tim was intoxicated and took a fall down the stairs. According to authorities, he didn't receive any help until 10:49 a.m when the State College Police were called to the fraternity where he was discovered unconscious. Piazza was then transported to Mount Nittany Medical Center and later flown to Hershey Medical Center. That Saturday morning, Tim was pronounced dead.  
Four days after Tim's death an alcohol ban was announced to all fraternities and sororities. Beta Theta Pi Frat was also under investigation by the State College Police for hazing and drinking and has been suspended until further notice. As for the other fraternities and sororities, there will be spot visits in the public areas to enforce the ban. According to the university, the inter-fraternity council, a student group, and the student affairs will be conducting these visits.
According to an anonymous current Penn State student, "People aren't happy about the ban". The student says he doesn't agree with the ban, and he's not the only one. "Mistakes happen and things can end up horrible, but alcohol isn't the problem. It's been around forever and it will continue to be around. People need to be responsible and learn when to get help." Although the legal drinking age is 21, it's no secret that college students drink. There are rules to enforce it, but with frats and sororities who have members of age it's hard to stop.
Although some Penn State students are upset about the ban, they aren't the only ones who have gone through it. Last August, The College of Charleston halted alcohol-related events at fraternities and sororities as well. The University of California at Berkeley instituted a ban in 2005 and even prior to this in 2004, Colorado State took the same step after the death of a student. These incidents have got some people thinking, should Greek life be allowed? When informing these incidents to adults, a parent says, "I definitely think Greek life should be allowed. It creates a unity for students and a way to make friends for the rest of your life. I do see some problems with it, but they should just improve the rules at the sororities and frats, not take them away."
Colleges world wide are known for three things: academics, socializing, and drinking. You're basically on your own for all three of those things, but drinking has now become a certain focus. Too many students are getting in trouble, falling behind in academics, and facing injuries. Colleges are now taking steps to ban alcohol to ensure safety for their students. These bans aren't always enough though, students need to take it upon themselves to do the right thing and be there for one another. Don't let the drink control you.