Mr. Cordiner
Many of the students here at Ipswich High School know Mr. Cordiner. Mr. Cordiner is a very interesting and intelligent individual who likes to woodwork, stain glass, games such as chess, and carry camera equipment for his wife, whom he has known since they carpooled in kindergarten. His hobbies include needle pointing, woodworking, drawing, cooking, making history music videos, and researching the Willow and Urn patterns from grave headstones.  
Mr. Cordiner became a teacher after a career change from a stain glass artist. The reason why Mr. Cordiner changed careers was due to a close friend of his suggesting that he become a teacher. In the past Mr. Cordiner tutored his friend's two daughters. Mr. Cordiner majored in cartography, a minor in computer science, a Master of Arts in Teaching History, and is currently working on receiving his masters degree in education for special education.
The most significant events in Mr. Cordiner's life were his mother passing away when he was sixteen. The greatest influence on his life was his serving in the United States Army. As a historian, Mr. Cordiner finds William Tecumseh Sherman, Michelangelo, and Martin Luther King Jr. the most fascinating individuals in history. His favorite quote is "The American Republic will endure until the day Congress discovers that it can bribe the public with the public's money" by Alexis de Tocqueville. Mr. Cordiner's favorite thing about being a teacher is doing everything he can to help students become whatever they want to be when they get older.
If Mr. Cordiner could have anything, it would be the ability to speak French fluently. If he could do anything it would be to depoliticize the subject of climate change. Mr. Cordiner's top five favorite movies are The Godfather, Almost Famous, The Empire Strikes Back, Rear Window, and To Kill a Mockingbird. When I asked Mr. Cordiner why he loves history he responded by saying, "I see history as a giant jigsaw puzzle that doesn't just move through time, but space and all of these pieces fit together to produce events in history and I am fascinated in trying to see how they fit together and produce the picture we now have or in the past."
Mr. Cordiner's favorite song is Fool In the Rain by Led Zeppelin and his favorite album is either Jeff Beck's Blow By Blow or Led Zeppelin's Physical Graffiti. If Mr. Cordiner could have any superpower it would be to be able to look 72 hours into the future. Mr. Cordiner's favorite founding father is Alexander Hamilton and his favorite president is Theodore Roosevelt. Mr. Cordiner's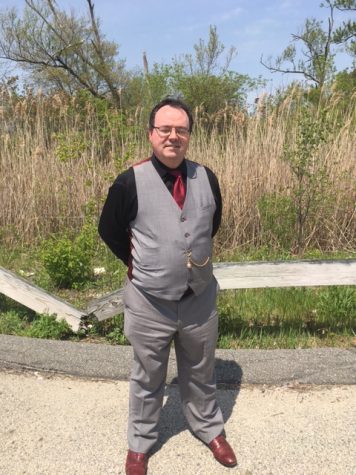 shows are The Americans and Archer. At the top of Mr. Cordiner's bucket list is to see the Chartres Cathedral in France. Mr. Cordiner's favorite poem is Jabberwocky by Lewis Carroll which was originally published in 1871 and his favorite book is Dante's Divine Comedy. If Mr. Cordiner could visit or live anywhere he would visit or live in, it would be Christchurch New Zealand. Mr. Cordiner's favorite sports teams are the New England Patriots and the Canterbury Crusaders.