Senior Slide Hits Home Early
Senior year is the most anticipated part of every student's high school career. For many of us, it's the year where we can finally get the hell out of here; for other students, it's the year with the promise of winning spirit week and all of the senior-exclusive activities. However, in order to get out of our tiny town, all seniors have to deal with the the big question: what happens next? We interviewed multiple seniors at Ipswich High School to learn about their plans after high school, as well as interviewing a guidance counselor to gather some insight on the college process and stresses.
After asking Quinn Comprosky, current senior, what his biggest motivator was for applying to a four year school, his response like many others was, "because I have to." He then followed up with "if you want a job in the real world, they look at where you went to school for credibility, [you're] setting yourself up for your future". Quinn is planning to go out of state and is applying to numerous schools in Indiana. We then asked Quinn about one of the most common concerns while applying; what is the most stressful aspect of the college application process? Mr. Comprosky shares that he has been "debating with [his] parents about location, price, and what I want to study." Parents are huge influencers of where their child ends up going to college. Many parents encourage kids to attend the schools that they went to or encourage their kids to take advantage of the instate tuition opportunities. Senior student, Chris Falcione explained how his parents were worried about him being too far away from home, in case something ever happened to him. However, parents can be beneficial resources in providing insight to their child's college search.
Stephanie Veerman, senior, explains that the idea of being a legacy to her parents past schools has become a comforting thought.  She mentions, "All of these schools, I have grown familiar with and feel at home in." Steph is frustrated with the tedious work that accompanies the college application process, "The most stressful part…is definitely all the forms and small stuff. I know where I want to go and now it's just a matter of filling out my birthdate 5,000 times." Similarly, guidance counselor Mrs. Starrett puts it "the puzzle pieces are really difficult to put all together." Mrs. Starrett expressed her concern about many seniors building up so much anticipation for the application process, but "don't realize how much stress there is even after you apply." Stressors such as waiting for the envelope to come in the mail, committing to a college, and scholarship applications are all waiting around the corner shortly after you apply to school.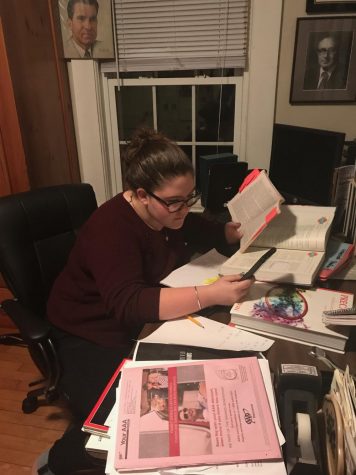 However, not every senior is using the Common App to aid them in life after high school, so much stress stems from the fact that students who are doing private applications, or not applying at all are often very confused about what the next steps are for them. Mrs. Starrett stresses the importance of building a relationship with your guidance counselor "bring us food!" she said with a smile. By getting to know your guidance counselor, they will have a better understanding of your personality and ambitions, and can help point you in the right direction as senior year comes to a close. During the meeting, we mentioned to Mrs. Starrett that guidance wasn't of any value during middle school, we thought the only reason you would ever go there is if you were in a fight with your friend. Now four years later, the guidance office is where we work through the stress of senior year.