A New Red, White and Blue
Imagine that you are packing your suitcase while saying goodbye to friends and family as you go and live 3,542 miles away for a year. Well, that is precisely what Rixt van der Kooi did. Ipswich High School's, Madeline Wilson, decided that there was no better way to spend her senior year than with a new sister. When registering to host her second foreign exchange student, Maddie knew that Rixt was the perfect candidate.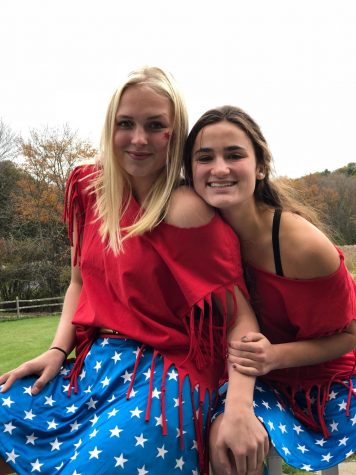 A lot of preparation and hard work went into Rixt's decision to live away from home for an entire year at the age of 16. Rixt had just finished school in the Netherlands and was ready to start her collegiate career, but her dreams of mastering the English language led her to the United States. Furthermore, Rixt is a phenomenal field hockey player, so it was necessary for her new high school had an elite field hockey team. So, Maddie Wilson and the field hockey team played a crucial role in Rixt van der Kooi's decision to choose Ipswich as her new home away from home.
   Rixt never believed that she was the type of person who could travel across the world and create a new life for herself. Rixt said, "I am used to comfort and formality so adjusting to a different lifestyle, a different style of field hockey and a different family was definitely the most nerve-racking thing for me." Although, Rixt felt that the adaption was much easier because she chose to play a sport. Joining the Ipswich Field Hockey team made her feel less nervous walking through the front doors of Ipswich High knowing that she already had friends and familiar faces to help her figure out which pod is which.
   Although life at Ipswich High has been an experience of a lifetime, with the holiday season coming up, Rixt can't help but wish she was spending it alongside her family. Yet with all of the adventures that go on in the Wilson household, Rixt is excited to see an American Christmas.
   The Wilson Family was hesitant to host another exchange student after their first experience did not go exactly as planned. But, after countless hours of facetiming with Rixt, they felt as though she was already a part of the family.  A lot goes into being able to host an exchange student, such as home inspections, school acceptance, living arrangements and being able to support another child for an entire year.
   There definitely are some challenges that come with hosting a student. Maddie said, "Sometimes it is hard staying focused on homework and not getting distracted easily." And naturally, just like other siblings, Rixt and Maddie have managed to get on each other's nerves and argue but nothing too extreme for them to lose their new best friend.
   On the other hand, Maddie and the Wilson Family could not be more pleased with how these past three months have gone. Maddie loves having a new friend who she can rant to and let loose with.  "Rixt and I got close very quickly, and now our whole family spends more time together," said Maddie. The Wilson Family has always been known as a close-knit group, and they all have loved to welcome Rixt van der Kooi to the knot, Maddie especially. "Rixt and I got close very quickly, and now our whole family spends more time together."  In addition, Mrs. Wilson has had three kids at home for the majority of the last 15 years. Until her oldest son left for college two years ago. This made Rixt the perfect fit, there was enough room for her, and the Wilson's were used to there being three of them. Also, Mrs. Wilson said,  "Rixt is always happy and positive and can always brighten up the household with her contagious laugh and outgoing personality." Although it's not just the Wilson household that she brightens up; it's everyone day in and day out.  She doesn't go a day without making someone smile.
   Rixt and Maddie both agree that this year has been one of the best years of their lives. Maddie recommends welcoming a new sibling into your home whenever the chance presents itself. She gets to have a new sister and best friend; she says "I literally feel like I'm living with my best friend." Although some might think it would be hard to introduce someone new to a friend group that has been together for years, Maddie says, "They both have adjusted amazingly and it's great to be able to join my two worlds together."  Rixt agrees, she loves being able to have all these new friends that she'll "never forget!" Everyone has made such a big impact on her already and she on them. Rixt wholeheartedly recommends the exchange program. She explains that it gave her "a chance to step out of my comfort zone, and view life from a whole new perspective." She believes everyone should take the opportunity if they are offered it, because it lets you see the world, meet new people and experience different ways of living.