Girls Winter Sports Preview
With the cold temperatures setting in and the sun going down early, a change in seasons is upon us. Winter sports are coming to a start and Ipswich High School always puts forth a promising lineup. The school offers Indoor Track, Hockey, Basketball, Swim, Gymnastics, and Wrestling. I was able to interview the girls on the Track, Hockey, Basketball, and Swim teams to preview their seasons and provide information on what their teams plan to do this 2019-2020 season. 
Girls Hockey:
In Ipswich, the girls who play hockey combine with Beverly and Danvers to make up one team under the Beverly name. Last year they had a 6-14 record but feel much more confident about the upcoming season. I interviewed junior captain, Cayla Greenleaf, who had only good things to say about her team. Greenleaf shared, "We have a new team and lots of new players who came from different schools so it is going to be difficult to get the kids from different schools to develop chemistry." One of their biggest focuses this year is "on building team chemistry while also practicing the fundamentals of the game, like skating, passing, and shooting." Last year they lost both of their captains so they are having many "talented underclassmen step up." The team is putting forth a great lineup and they have an exciting upcoming season that will be filled with action. 
Girls Track:
Last year the girls' team had a 4-1 season which is very impressive considering how young the majority of the team was. They lost 2 of their key captains and runners, many hurdlers, and throwers. However the team this year has a lot of potential with incoming freshmen. Their rival, Amesbury, lost many of their key point scorers so they are hoping to beat them this year. Senior Captain Heather Milano says, "This season is going to be great. I really can't wait for all of the incoming freshmen, they are very fast." This year, the team is running to honor an Ipswich sports legend, Ken Spellman, more commonly known as Spell. Spell coached both the indoor and outdoor track and this season each meet, runners, throwers, and jumpers are working to make him proud. 
Girls Swim: 
Unlike the girls' hockey team, the girls swim team is made up of swimmers from only one town, Ipswich. This, according to junior Sandy Colomenta, sets them at a disadvantage because they are one of the smallest teams in the league. Colomenta says, "We lost a lot of strong team members this season, but we also are gaining new members that are really hard-workers, so I think in the end it will balance out." Last year the team won the Sportsmanship Award at the CAL meet. She feels confident in her team and what they can do this year. The biggest thing that Colomenta talked about was the positivity on the team. She says, "The swim team is a very unique team, to say the least, and it is so surprising how many smiling, happy teammates there always are after every practice.  Even when we lose meets, everyone is always happy because we all know that we tried our best." She wants to stay positive at every meet and have a fun season. The swim team has a great attitude and is going to have a lot of key swimmers to showcase their skills this season. 
Girls Basketball: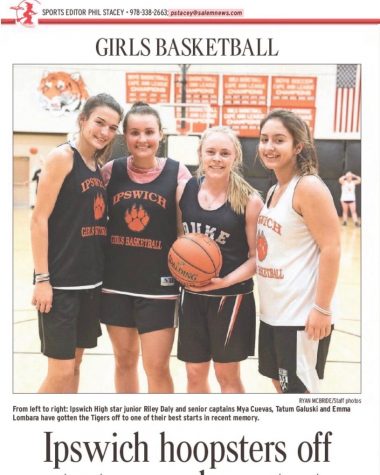 Left to right: Riley Daly, Mya Cuevas, Tatum Galuski, and Emma Lombara
Picture by Salem News
This upcoming season for the girls' basketball team is looking like it will be one of their biggest yet. This year the Lady Tigers are lead by senior Captains Tatum Galuski, Mya Cuevas, and Emma Lombara. Galuski says that the games against their rivals, Hamilton-Wenham and Manchester, are going to be some of the biggest competition they will face all season. Some of the other stand-out players include Riley Daly, a varsity returner, and Jenny Tarr, a "new addition to the team." Last year, the Tigers lost their main scorer, Katherine Noftall. This year Galuski says, "What is going to be hard is scoring for us. We are all very athletic so defense is our strong suit. We still have a lot of work to do on shooting, but we are all up for the challenge!" The Lady Tigers are going to work hard to live up to the precedent set by past Ipswich Girls Basketball Captains. They are hard workers and they are ready to bring in some wins this year!