The Forgotten Class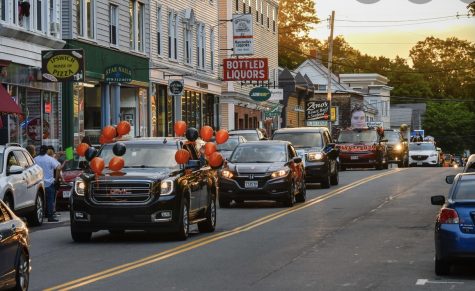 When the pandemic originally hit back in March, nobody knew how long the country would be affected; it is seven months later and not much has improved. Numerous high schools, including Ipswich High, have had to confront complex challenges with the latest rules and laws encompassing this pandemic. The class of 2020 had to graduate car by car while missing out on most of their senior activities. However, the upcoming class of 2021 has it different. For these students, nobody is certain on what their year will resemble. Could they have a typical and traditional senior year, or will it simply be the same as the class of 2020s?
      Generally, every upcoming senior class has certain activities that they engage in before they graduate. For instance, senior week, this week is typically comprised of various activities or field trips every day of the week. This is a tradition every senior looks forward to because it is their last opportunity to spend time among their grade before saying farewell at graduation. To have a better understanding of the forthcoming year, we interviewed Mrs. Lamkin, a senior class advisor, and asked her a few questions on what we should expect. We asked her what she deems will happen to the class of 2021s funds if senior activities get canceled. She stated that the funds and other non-refundable deposits will go towards other future events such as the class reunion. For seniors, this is disappointing news because students have given money every year in order to have the senior week they hoped for and it might not even be an option. 
      One of the most exciting experiences throughout the year for everyone is spirit week, Homecoming, and Prom. While interviewing Bree Ring, the class president, we asked her if homecoming/spirit week will be considered, and if so, how they would look with the social distancing rules. Bree explains that, "Homecoming/spirit week is going on hold until the spring (from what I've heard). These events will take a lot of planning and consideration with safety."  With everything we have learned about homecoming, we can assume that Prom will somewhat be the same regarding guidelines and safety.  With last year's Junior Prom being canceled, this year's seniors hope to get the opportunity to experience a prom previous graduates have been able to receive. 
      The last event that Seniors are concerned about is Graduation. Ordinarily, graduation takes place in the Ipswich High's gymnasium; however, with the new guidelines, we are expecting things to be modified this year. Because of COVID, last year's class of 2020 had their graduation relocated to Cranes Beach, where they continued the ceremony in cars. We questioned Bree Ring on the plans for graduation at this moment and her response was that there are "No plans for graduation at the moment. We will just have to wait and see what the spring holds." Even though there are no plans at the moment we have been reassured that the officers are working hard to find a solution.
       Although they are still uncertain of the outcome, our senior officers have a lot of hope and high expectations for the year to come. Mrs. Lamkin states that the "class officers seem very eager to get started on planning events for senior year." Concluding our interviews, we have learned that even though this year will be hard, our class officers are still working thoroughly on trying to make our senior year the best it can be.