Mr. Sargent: An Underdog Story
Andrew Sargent, a teacher, friend, uncle, husband, and loving cat owner, is taking over Ipswich High School by storm. He's a popular English teacher at IHS where he can be found helping students with all sorts of problems. From essays to writing supplements, Mr. Sargent is the man of the hour. He recently participated in the teacher skit in this year's "Spirit Week" where he portrayed Napoleon Dynamite from the comedy "Napoleon Dynamite". He did a comical dance from one of the popular scenes.
Many know that Mr. Sargent went to Dartmouth College, but not many know he went for his Bachelor's degree in creative writing and poetry. He attended Dartmouth College, a little college in Hanover, New Hampshire, for four years and graduated in 1995; He received an award in his senior year of college for the best manuscript on poetry. Not only did he attend Dartmouth College, but what many don't know is that he also attended William and Mary for his graduate degree, where he got his Master's in American Writing. He loves to share the fact that he went to Dartmouth by setting his background to his computer to the different seasons at Dartmouth College and by having a "Dartmouth Alumni" bumper sticker on the back of his car. If he had one day to go back up to Dartmouth, he would most likely visit his old English professors and hike the mountains off campus.
He grew up on a little farm up north with an older sisters. He says, "Life growing up on the farm was a good experience that I enjoyed. I could work a lot and I was outdoors with my family. It taught me how to work hard and push myself even when the tasks weren't that fun." He now lives in Gloucester with his wife, Emily, a marine biologist, and their two cats, Olivia and Jessabelle.
Ipswich isn't the first school Mr. Sargent has taught at. He has been teaching for about 10 years and at four different schools. Two of his teaching jobs were very short. He once taught at a little private day school in Virginia. If he wasn't teaching, he would like to study law or be a writer. He loves teaching and would want to stay teaching for a very long time, if he could.
Mr. Sargent has made a positive impact on Ipswich High School over the five years he's been teaching here. To some students, he is just a teacher, but to most students, such as Senior Ellie Dolan, he's more than just a plain old teacher. "Mr. Sargent is kind of like an older brother to us at Ipswich. He's always there with advice and such. He has helped me with my college essay and I'm really thankful for that." Ellie was his student her freshman year for honors English and for her junior year for honors American literature. She also said he's a very cool guy and she loved the teacher skit performance he did. She had a lot of praise for the English teacher. "He really pushes his students to a whole new level of brilliant writing."
Mr. Sargent has had a memorable five years at Ipswich High School; he loves working here and really commends his students for their hard work they've put forth. He loved doing the teacher skit and thought it was one of the most memorable things he's ever done during his years teaching at Ipswich. He loves seeing the kids grow into strong writers and helping them be the best writers and people they can be. Ipswich High School is lucky to have him!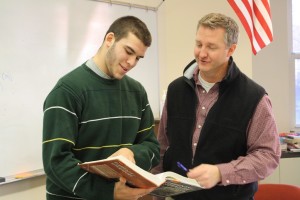 Leave a Comment