Lily Stewart: Racing to Success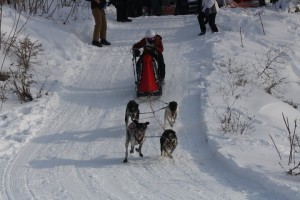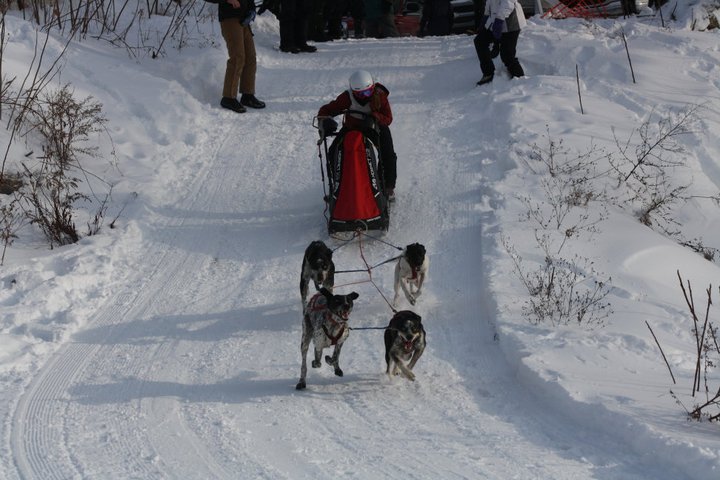 http://www.youtube.com/watch?v=jOGRBK3yXA8 (A video of Lily's Mass Start)
Lily Stewart is a junior at Ipswich High School, and she partakes in a mostly unknown, but amazing sport. Lily has been competing in sled dog races since she was about eight years old.  Currently sixteen years old, she is one of the best in the world. Lily gets interviewed a lot about how she got started in sled dog racing. The answer that she tells the majority of the time is that she started watching a lot of dog sledding movies and got really into dog sledding books. When she gets sick of telling that answer she says that her grandfather almost won the Iditarod, a long distance sled dog race in Alaska, but was stripped of the title due to a technicality. Only Lily knows which story is the true one. After eight years of competing, two races stick out in Lily's mind. One time racing in Canada, almost her entire team of dogs somehow got loose, and she had to run three miles on foot with one dog in hand to find the rest of her team. Lily had to speak with the locals solely in French to be able to find her team. Another race that really stood out was one where Lily's sled tipped over an unbelievable eight times.
Last fall, Lily submitted an application and all of her past race record to the ISSS committee. This application was to represent the United States in the "International World Sled Dog Championships" in Alaska. Lily was accepted and immediately started in on a training plan for the Championship in February.  Traveling to Alaska costs a lot of money, so Lily needed to fund-raise quite a bit. To accomplish this, she set up an account on "Go Fund Me", an online fundraising site, and had all of her friends share it on Facebook. She also sent messages to companies like EBSCO, and L.L. Bean, asking for money and warm clothes. EBSCO gave her a lot of money and L.L. Bean gave her hats, coats, socks and more under layers than she could count. All of there were embroidered with her kennel's logo. Lily needed so much money because she and a few other members of her kennel were driving all the way to Alaska with about twenty-four dogs in a diesel truck that only got ten miles to the gallon. Lily and her teammates started their trek in early February and competed in several races on beautiful terrain along the way to hone their skills for the championship. When Lily and her teammates finally got to Alaska, they realized that Lily, at sixteen years old, was the youngest person there by two years.
For her last race in the championship, Lily competed in a race called the "Mass Start". Twenty to twenty-five teams all start at once, as opposed to most races where the starts are staggered. Lily said, "[The Mass Start] was the terrifying, seemed impossible and like the worst idea ever, but also really fun, exciting, and super challenging. During the race, Lily realized that she had left her overcoat on, which covered her racing number. She managed to take her coat off and tuck it into the front of her sled, all while steering her team of dogs. At the end of a long, grueling race, Lily miraculously came in third place, securing her bronze medal and third place in the world. When asked how it felt to be third in the world, Lily replied, "It feels pretty cool, but at the same time it doesn't really seem like that big of a deal. I really want to do it again, but get first next time". Lily plans to continue racing for as long as possible, and is aiming to compete in the 2015 "World Championships" in Sweden, and possibly in the Olympics if sled dog racing becomes a recognized Olympic sport.
Leave a Comment