The New Kid in Town
IHS students walk into the 2021-2022 school year with a brand new face to greet them, their new assistant principal, Mrs. Collura. 
Mrs. Collura may be new to Ipswich, but she surely isn't new to teaching. She began her career after graduating from Assumption College, getting her degree in chemistry and education. After teaching for a year in West Boylston, she moved across the country to San Jose, CA,  teaching high school chemistry and getting her master's degree at San Jose State. After four years, she returned back to the East Coast and began her long teaching career in Revere, MA. 
"Growing up in Connecticut, it was just a little bubble. Even at college it seemed like everyone was a lot like me," Mrs. C states after discussing her reasoning for leaving CT. It was clear she craved diversity. "When I moved to California there were 39 languages spoken at the school I taught at. I was hit with a lot of cultures; it was much more of a diverse place than where I had come from." She also adds, "I chose to live in Revere because of the diversity that existed within the school." 
It's safe to say that Mrs. Collura loves the learning curve of new environments and adores being faced with new problems to solve, whether it's in the classroom or in an office. "As an administrator, I was faced with things I was not used to dealing with because I was so blessed as a kid. Because I didn't have to deal with things like socioeconomic factors throughout my high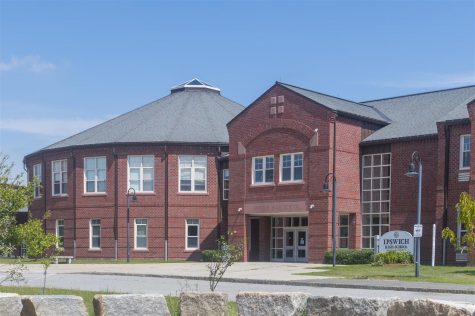 school experience. This all became a wonderful learning experience and was very eye opening."  Mrs. C stated that these experiences kept her on her toes while teaching and dealing with these new factors continues to be one of her favorite things about working at schools. 
"I definitely needed a change," Mrs. C says after being asked why she decided to leave Revere and the past thirteen years behind her. Mrs. Collura has always craved variation and change, and coming to Ipswich would give her exactly that. "The biggest or hardest transition from Revere and Ipswich is obviously the lack of students I know. One of the best parts of this job is knowing the students, so my main goal as of right now is to just continue to meet students and know more about everyone." One student that is privileged enough to meet with Mrs. Collura frequently is senior class President, Augie Grotnik.  He said, "I immediately felt comfortable with Mrs. C.  She's just so nice, and I felt comfortable right off the bat. What's funny is that I should've been welcoming, but she was just as welcoming as I was!"  He briefly discusses the swift transition from Mr. C to Mrs. C, saying, "Obviously Mr. C left big shoes to fill, but Mrs. C is better than anyone could have imagined. It's clear she belongs in our school, learning and teaching with both the student body and our teachers."