Winter Wonderland?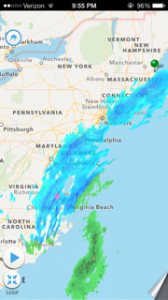 New England weather is a force to be reckoned with.  In the winter, one day it could be a blizzard leaving two feet of snow and the next day be 55 degrees melting most of the snow away. However, kids of all ages love this weather because there could be a snow day at any moment, and what kid doesn't love staying home from school? On the other hand, the elderly are not a fan of the harsh winter weather for many reasons.  They don't like the cold weather, the snow, or the ice.  It causes many problems they don't want to deal with; that is why many of the elderly go to Florida for the winter.  The snow also offers many job opportunities to the public to make money. The winter is a complicated season.
From a senior in high school's perspective, the snow is nothing but a blessing.  It means snow days that don't have to be made up, and also for some students, it gives them the possibility to make money shoveling.  When a student hear at Ipswich High School was asked the question; "what is your favorite part of a snow day?" Ryan Fantasia responded saying, "I actually have two favorite parts to a snow day: the first being that I don't have to make up the snow days at the end of the school year, and also just recently I have been chosen and asked to shovel out storage units for my friend's uncle the morning after a storm and it is quick, easy money." You never thought that someone would actually enjoy shoveling, did you? Another senior at Ipswich was asked "What do you do on a snow day?" Sean Whooley responded with, "I wake up pretty early because my dad has me shovel and snow blow my driveway and walkway, but after that I just relax and play Play-Station until the roads are good enough to drive on and then sometimes I go hangout with my friends, and we all do something together." Two different students take two different approaches to a snow day but there is no wrong way to spending a snow except for going to school!
The elderly take a different approach and have a different mindset to the snow and the extreme weather.  Most senior citizens that don't have family nearby to help them in the tough weather usually go down south for a couple months until all the snow and cold weather is gone.  They do not like to deal with the snow, and they do not enjoy the cold weather because it can cause pain in their their bones.  My grandmother is 85 years old and lives 15 minutes away from me year round because she likes to be close to her family despite the severe weather.  I asked her what her least favorite part of winter is and she responded with; "Black ice is the worst because it's so slippery and you can't see it coming."  I think we all have to agree with her on this one because many car accidents occur from black ice and that ice is essentially the most dangerous part of winter as well.
Teenagers and adults are at very different stages of life.  Between snow days and traveling south for the winter, they are different.  When teenagers hear ice and poor road conditions, they use it as a time to go do donuts in the local empty parking lot and fool around. However, when experienced adults hear icy roads they stay indoors because they know the troubles that can occur from the poor conditions. Winter is a beautiful season but is the beauty worth all of the work? I guess the decision is up to you!
Leave a Comment